"We all have the inborn ability to heal, to maintain, and to grow."
This is the premise of Suzie Emiliozzi's business, Living Joy LLC.
Suzie launched Living Joy shortly after graduating from the online Associates of Mind-Body Transformational Psychology Degree program at Southwest Institute of Healing Arts (SWIHA). Since then, she has helped hundreds of clients change, heal, and discover themselves.
Let's start at the beginning…
Years ago, Suzie was diagnosed with a terrible case of Rheumatoid Arthritis. Even with medical care, her condition was debilitating. Everyday tasks such as brushing her teeth, walking, or getting in and out of the bathtub were nearly impossible. Eventually Suzie was introduced to a form of energy healing called BodyTalk™. This holistic healing modality addresses the whole person: emotional, physical and environmental. Due to additional emotional and situational issues Suzie was experiencing at the time, BodyTalk™ was successful in her path to healing; she experienced immediate and profound changes within her body.
Once she was medication and symptom free, Suzie knew she had to share her story and her experience in order to help others in the same way. "Little did I know that the physical healing was just the first level of transformation," she said.
Happy and healthy, Suzie felt she needed to pursue additional education in the areas of health and wellness. "There are many ways to facilitate change. Although I already had wonderful, powerful tools available, it was important to me to explore additional avenues of healing, growth and change," Suzie says about her decision to enroll in a nationally accredited college such as SWIHA.
Through the Mind-Body Transformational Psychology online program
, Suzie had the opportunity to take classes in hypnotherapy, life coaching, aromatherapy, nutrition and many more, not to mention business classes such as Basic Finance and Business Writing.
Suzie's education set her up for success to launch her business and develop a dedicated client base. "The decision to start a business was easy," Suzie says confidently. "Execution was a bit harder."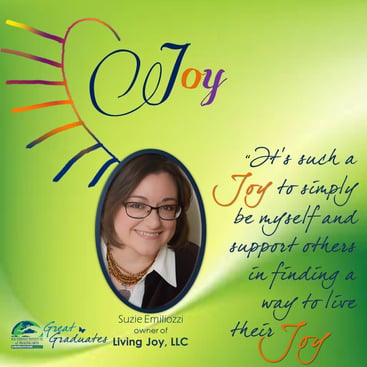 Suzie's dream was to start a business years before she actually opened Living Joy, however, she realizes that she was not ready to create and sustain a business until now!
Plans change...
"The plan I created was to ease into the business part time, while maintaining full time employment. While it was a very safe idea, that's not how it ended up going for me. I leapt into the business full time. That was scary and challenging at times! It has worked out very well," she claims with a deep sense of confidence and gratitude.
One of the big challenges Suzie experienced when opening Living Joy was getting out of her own way. Since her intention to ease into the life of a holistic entrepreneur and business owner didn't quite go as planned, she rolled with what came her way. As she let go of her old ideas, more clarity and openness rose to the surface. She found her vision and her voice, growing into the dream she hoped her business would become.
"It's such a joy to simply be myself and support others in ways that are meaningful," Suzie gushes about working with her clients.
Her clients come from all walks of life, and come to her with many different types of ailments and needs. One common thread holds them together – they are all seeking personal development, and often, better emotional and mental well-being. They want what Suzie has and what she lives on a daily basis.
Interestingly, many of Suzie's clients are not necessarily involved with the world of holistic medicine; she describes her clients as executives, entrepreneurs, even a doctor or two...in essence, people with stressful jobs that require long hours.
"I'm the person you call if you're stuck," she says. "Clients come to me if they don't know who they are, or if they're unhappy or sick and haven't been successful with other approaches."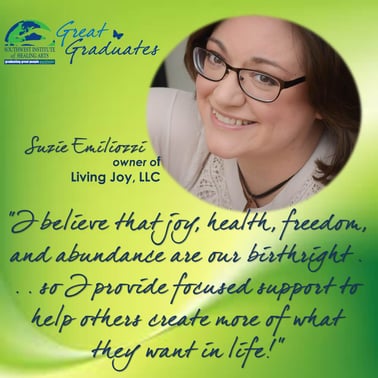 Often, clients will come to Suzie with a physical issue, such as chronic pain, and once they begin to experience success from her healing therapies, she continues her work with them to address other health related goals. She employs three main approaches to every client she works with: energy healing, hypnotherapy and personal coaching.
"I believe that joy, health, freedom, and abundance are our birthright so I provide focused support to help others create more of what they want in life: greater physical well-being, mental clarity, emotional balance, fulfillment, or personal accomplishment," Suzie says of her methodology.
Seeing clients is not Suzie's only source of income. She has discovered alternate avenues of income, such as selling
books, MP3s, and gift certificates though her website, as well as offering classes, workshops and group events such as Group Hypnosis.
"I love, love, love this work!" Suzie exclaims. "My heart sings when my clients experience what they've been longing for: a personal insight, achieving a meaningful goal, becoming more empowered, experiencing the love or peace that's been desired."
If you are interested in learning about our entrepreneurial-focused Mind Body Wellness Practitioner programs available on-campus or on-line like Suzie's, contact SWIHA at 480-994-9244 and ask to speak with an Admissions Coach.