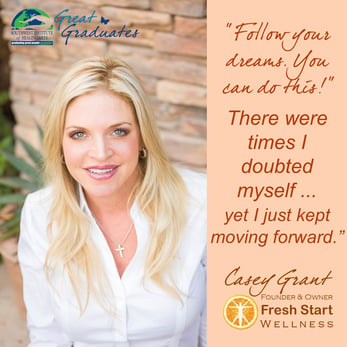 After 18 years of working in the mortgage industry, Casey Grant was stressed, and sick of feeling stressed. She disliked her job because that's what it felt like – a job. She didn't enjoy what she was doing, and wanted to find a way to create a good income doing work she loved. Casey's lifelong passion for health and nutrition sounded like a way out of the mortgage industry...the question was, how?
Casey began to research schools for nutrition education, and Southwest Institute of Healing Arts (SWIHA) immediately resonated with her. Although she lives in Chandler, Arizona, a town close where the main campus of SWIHA is located, Casey decided to enroll in the SWIHA's online Holistic Wellness Practitioner program
because it was convenient for her busy lifestyle, and allowed her to still be available for her family.
The entrepreneurial attitude and atmosphere of SWIHA is what appealed most to Casey. "SWIHA's mission is to inspire and support people in opening their own businesses, if that is truly their dream. The college is committed to the success of their graduates," Casey explains. "All my instructors encouraged me to go after my dreams and goals, and they guided and inspired me from an entrepreneurial point of view."
Once she completed her program, Casey began to fully implement the business plan she started creating in one of the required courses for her online program called Entrepreneurial Support & Business Development. "This class was a great way to start getting the momentum going while I was finishing up my program," shared Casey excitedly. "We were required to create a business card, website, Power Point presentation, intake forms and business plans. By the time I was finished with the class, the seeds had been planted for a viable business to grow."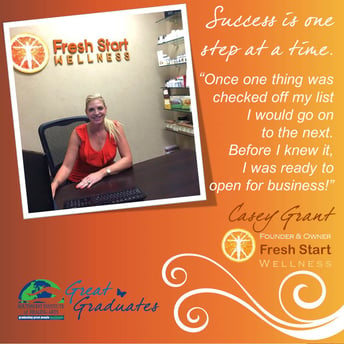 Since she already had many essential pieces in place to start her business, Casey got to work! Soon, Fresh Start Wellness was born. Through Fresh Start Wellness, Casey offers clients nutrition consultations while educating them on how to live a healthy life. Although Casey acquired a plethora of holistic entrepreneurial skills and business development techniques during her program, the inspiration for her business concept was personal. Casey always knew she was destined to help people succeed in their health goals. "I have always struggled with my weight, and I found a way to live healthy and keep the weight off!" she passionately explains. She urges clients to stop the fad diets, eat clean, eat healthy, and the weight will stay off. "It's about a lifestyle change! There's no starving or skipping meals to get to the goal," she tells her clients.
The health issues Casey's husband was experiencing also motivated her to start her business. Five years ago her husband was diagnosed with gluten intolerance. While gluten intolerance is currently something more commonly known and often talked about, when her husband was diagnosed, Casey had no idea what it was. "I remember saying 'what is gluten?' However, when I started to learn and educate myself I couldn't stop!" she proclaims. "I knew I had to share with others what foods and chemicals do to our bodies and how we can create wellness by the choices we make!"
Fresh Start Wellness offers clients nutrition coaching, weight loss management, allergy testing, hypnotherapy and Zyto scans. A Zyto scan is a unique medical device or tool that can identify what is deficient in the client's body. Conducting a Zyto scan on clients helps Casey determine their deficiencies and devise a nutrition plan comprised of whole foods and supplements to give the body what it really needs.
While Casey currently experiences success in her business, the road to this success was one step at a time. When she was starting Fresh Start Wellness, she made sure to make a checklist and follow it faithfully. "Once one thing was checked off the list I would go on to the next. Before I knew it, it was time to open for business!" she said.
Since opening her business in August of 2014, Casey has helped over 40 clients achieve their weight release goals. Her biggest client success story is helping a male client lose over 60 pounds – and he is still losing more weight on his own! "Many of my clients have lost over 20 pounds. The key to keeping the weight off is making a lifestyle change, not just following a diet. I make that very clear," she says of coaching and education she provides her clients.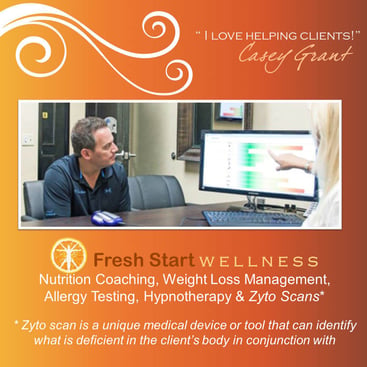 When asked about what advice she would give to current and future SWIHA graduate who is hoping to start their own holistic wellness business, Casey shared:
"Follow your dreams. You can do this! There were many times I doubted myself, however, I just kept moving forward. It is scary, at times! What change isn't? Once you help just a couple of people achieve the results they were looking for, and they start talking about how you have made a difference in their lives . . . it makes you all the more motivated to reach out and serve more people."
Casey says the easiest part about owning Fresh Start Wellness is simply doing her job. "I love helping clients!" she says. "When clients walk out motivated to make a change in their lives for the better, and I know that I had a hand in that, there is not a greater feeling!"
To learn more about SWIHA's online programs and courses, visit the website
or call 480-994-9244.