By Nancy Jackson, Online Exit and Placement Specialist
"Believe in yourself – you are capable of great accomplishments."
That's the message Pam McCulloch, a recent Southwest Institute of Healing Arts (SWIHA) graduate, wants to share with current and future SWIHA graduates. Pam took her own advice, and while still pursuing her online degree in SWIHA's Associate of Occupational Studies Mind-Body Transformational Psychology Online program, she launched her business, Paradise Organics.
Tender and organic fruit, herb, and vegetable starter plants is what Paradise Organics is all about, providing home gardeners with organic, non-GMO starters.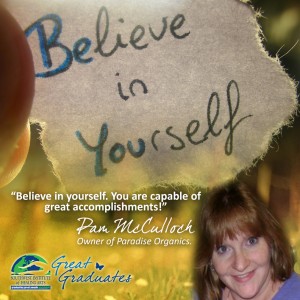 The Colorado based business teaches new gardeners how to get started in whatever growing space they have, even if it's an apartment balcony.
As a full time gastro-intestinal tech assisting in outpatient surgeries, Pam was thrilled to add the role of self-employed urban farmer and business owner into her busy life. How did she make her urban farming business happen? She says she manifested it.
"Yes, I put out there what I wanted to do for work and it is happening. I am my own boss doing what I want," says Pam.
Pam hopes to make Paradise Organics her full-time business soon. When asked how it feels to be graduated and doing her dream, she says "It is amazing, all those months of hard work put to use to help others!"
Pam graduated with an Associates of Occupational Studies two year online degree. Although she enjoyed all of her classes, it was the nutrition and urban farming classes that she valued the most. These were her chosen core curriculum classes that she was able to immediately put into use from week to week. She felt her online courses were so engaging and was impressed with how the passion of her teachers came through clearly in the lessons, especially in an online format. Although she has graduated, Pam stays in touch with her former classmates and refers to them as her new friends. She is looking forward to taking more classes with SWIHA in the future.
Pam feels she found SWIHA as part of her life's path; the school offered everything she wanted and needed in her life at the time.
"I have always wanted to get a degree but wanted to go to school for things that really spoke to me – I want to be helping people.
SWIHA offered that and more."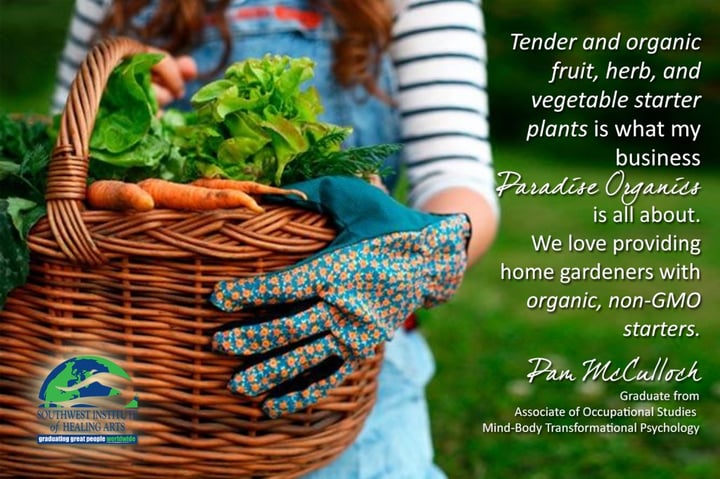 Pam is growing her local business through the Paradise Organics Facebook page
and through word-of-mouth. She says the most challenging part about launching her business was getting over her own fears and just doing it. She knew she had to have faith in herself and maintain the belief that she could succeed. Now, Pam works everywhere! Out of her own home, her client's homes, community gardens and the local farmer's market. Her clients are people who are interested in planting, gardening, and learning about nutrition, and she will be offering classes soon.
For now, Pam is dedicated to keeping her hands dirty growing amazing, holistic and nutritious foods, and helping others to grow their own vibrant plants.
Start your New Year off on the right foot! Interested in SWIHA's online programs
? The first 2015 start date is January 19th, and the deadline to enroll is January 9th. Learn more about what you can gain from the Associate of Occupational Studies Mind-Body Transformational Psychology Online Degree program, the Holistic Wellness Practitioner Diploma online, the online Life Coaching Certificate of Excellence, and more by scheduling an appointment with a SWIHA Admissions Advisor. Call 480-994-9244, or email admissions@swiha.edu.