By Will Zecco, Guest Blogger and SWIHA Success Center Manager
There are many aspects to the job that I do at Southwest Institute of Healing Arts (SWIHA). The most rewarding is my role as mentor and coach for the graduates, helping them pursue their dreams and offer their gifts and graces to the world in profitable way.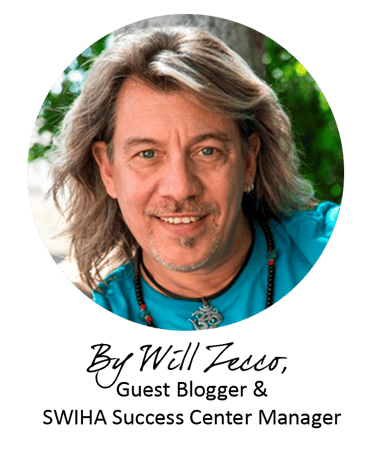 It is my honor to support these individuals from the early stages of their business development and guide them toward entrepreneurial success. This process is always an interesting and eye opening experience because each one is very unique in their chosen path.
The most rewarding part of this is watching the transformation from being scared and overwhelmed at the thought of starting a business, to the point where they spread their wings and soar. For some this is a slow and possibly arduous process, with many starts and stops; things sometimes become stuck and just never seem to launch. I often tell my graduates, the challenges to build and grow a business are the same no matter what the business is. How do we take a product or service and turn it into a profitable business? It takes more than just a great idea; it takes imagination and perseverance to become successful.
It is seeing the success stories happen that makes my job so rewarding. Knowing that I was able to be a source of support to help these things happen is what makes my soul sing!
I am honored and humbled to share one such success story of an amazing and
strong SWIHA graduate.
- Will Zecco
All her life, Natalie McGovern never really felt like she fit in. While she appeared happy on the outside, on the inside she was empty and lost. In junior high Natalie was diagnosed with Attention Deficit Disorder. She tried for a while to manage the symptoms with prescription medication, however, it didn't seem to make a difference. School was boring and she barely maintained a C average. Even with these struggles she attended college when her parents insisted. Choosing a school far away from her parents Natalie looked at this as a way to find herself. She felt like a stranger in her own life. Drinking, drugs and depression began to take over and she dropped out of college after two years. The effects of the drugs and alcohol began to cloud her judgement, sending her into manic episodes and caused her to lose jobs, struggle in her relationships and experience financial hardship.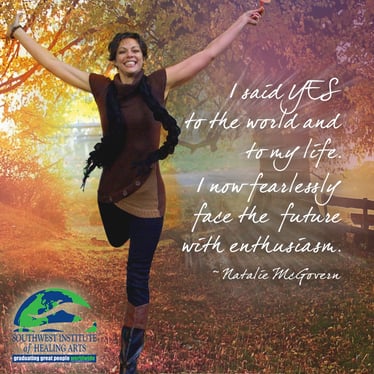 In 2000 Natalie moved to Arizona with her parents; it wasn't until 2010 did she find healing. For seven years she drifted from one toxic relationship to another, suffered from migraine headaches, thyroid issues and weight issues. By 2009 she had given up and just wanted to end it.
Luckily a shift came in the form of her nephew's birth. His arrival gave Natalie a new spark for life - she wanted to feel well again. She Googled "How to heal naturally from mental illness" and connected with a spiritual hypnotherapist. Through this process Natalie was able heal herself, and get in touch with the gifts she held inside for so long. As a result, she began to live her life differently.
Through spiritual hypnotherapy Natalie was able heal herself, and get in touch with the gifts she held inside for so long. As a result, she began to live her life differently.
It was at this point the transformation really began. In December 2010, Natalie enrolled in the Mind Body Transformational Psychology Program at SWIHA. This was a major step for her.
During her program at SWIHA, Natalie developed tools which helped her feel a new desire and longing to find her true purpose in life. Her original intention was to learn how to continue to heal herself and live a balanced life. As it turned out, she soaked up all that she could.
"I was so blissful,"

- Natalie said about her time as a SWIHA student.
In just two years Natalie completed her program, and had control of her life and her health. "I was so blissful," she said about her time as a SWIHA student. The next step in her journey was to use all that she had learned to take control, heal herself, and share this with others. Her passion became to help others find that same bliss in their life.
This is where our paths crossed. Natalie showed up in my office full of energy and excitement with an idea to start her business, Blissful Living. She opened her practice in May of 2012 and hit the ground running. Over the last two years, Natalie developed a successful practice of private clients and has an office space in Central Phoenix. She's led many workshops in the valley and has become a popular SWIHA instructor!
To know Natalie is to love her! She comes at life with such a passion and enthusiasm; she turns madness into miracles! Our process together has been filled with ups and down and I have watched her take each challenge head on. At times there was frustration and anxiety . . . in the end she always found the solution. Through sheer determination, focus and hard work Natalie has manifested an amazing practice and business. Natalie said YES to the world and to her life, and as a result gained new-found inner strength, empowering others to get a grip on their life. She fearlessly faces her future with enthusiasm.
It has been my honor to be her mentor through this process and watch her grow into this successful entrepreneur and business owner. To see the rest of her incredible story, visit her website www.blissfullivingaz.com
.