As a fashion design graduate and stay-at-home mom of two boys, Nickole Swensen thought feeling lackluster and exhausted was normal. She realized she had taken advantage of her health and let herself go for too long. With my poor self-care and health habits she started to not fit into her clothes, she had issues with swelling in her body, was constantly tired and was unable to get help from my family physician. Once he decided to make her health a priority she found her energy again, felt rejuvenated, and became a happier woman and mom. Nickole became hooked on this new healthier, happier lifestyle and decided to pursue a career in wellness.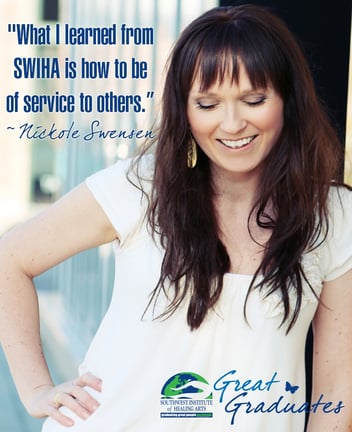 In her journey to heal herself, she found her true passion and purpose was in helping others heal themselves heal from the inside out, just the way her healed herself. Once Nickole discovered her gifts and knew she wanted to learn more about supporting others in living a more healthy and happy life and do it in a loving and profitable way. That's when she sought training at SWIHA – Southwest Institute of Healing Arts.
"My passion for health developed when I started to change my own health habits. From the moment I consciously began making new choices, I realized how happy I felt. I soon invited my family to join me in feeling happier and healthier. As I changed my diet, my family's diet changed as well, shifting into a healthy vegan/vegetarian way of eating. It has been an amazing transformation to be health-minded. I love being able to share the powerful information I have embodied with my clients so they are able to transform their lives, as well as the lives of their kids and families."
Nickole was inspired to start her business after watching health documentaries and reading all she could about living healthier through holistic means. "As I started sharing what I had learned with my family and my friends, I knew I needed to find a way to reach more people on a larger scale. With a business idea in mind, I enrolled in SWIHA to get the proper training needed to best serve my potential clients."
Nickole graduated as a Mind Body Wellness Practitioner
, with a focus on Holistic Nutrition and Urban Farming. "What I learned from SWIHA is how to be of true service to others. When you are in the health and wellness industry, it's not about you – it's about the client. I learned how to best serve my clients by teaching them to listen to their own intuitive insights, and to discover their answers inside themselves, just as I had done."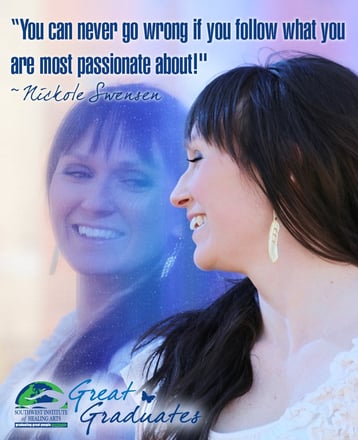 Nickole's business is perfectly titled: "Be Well. Be Happy!" Located in San Antonio, Texas, she works with clients via both phone and Skype calls, supporting clients from all around the country to help them live their best life. "I help women live healthier and happier lives through healthier diets and holistic techniques. I teach my clients how to eat in a healthier way that is realistic for their lifestyle. I show them being healthy doesn't have to mean boring or bland--it can be fun and delicious too! I also help them find ways to introduce healthy living into their family's routine, so the family unit can benefit from a healthy lifestyle!"
Nickole offers one hour, one-on-one coaching sessions, as well as a 6-week coaching session package. She also offers a step-by-step 10-day 'body reset' that she designed to guide clients back into the healthy living lifestyle after transitioning from vacation or holiday routines. "After a session, my clients experience focus and clarity on what they need to do to get to their health goals. We make a realistic action plan to follow so they can get to their goals quickly and safely. My clients are women who want to live a healthier life for themselves, as well as for their family. They see the need to clean up their diet and health routine to live their best life ever."
One of her clients said this: "Nickole is amazing! Her depth of information and conscious health has changed my perspective on how I take care of my body. In the four weeks we worked together, I incorporated a TON of new things into my routine and felt the difference within me right away! I had more energy, felt lighter, was inspired to begin moving my body, and happier all around! She even helped me with tips for eating while away on vacation that helped me not have a killer stomach ache by sticking by my health goals and tools to tackle the urge to binge eat and drink. If you're looking to get your mind in sync with your bodies needs Nickole is the one! She will rock it out!" - Tieara
Much of Nickole's success has been due to her personally relating to her niche market. She has been serving women who are just like her. Once she focused on her ideal client, she was able to attract those who are most receptive to her products and services. "The hardest part in starting my business was finding my niche. Once I figured out who I could best help, it became easier to align and market my business. The easiest, and best, part of my business is actually working one-on-one with my clients. I love sharing my knowledge with them and helping them come up with a realistic plan that suits their lifestyle."
Another of Nickole's clients reported: "I sought Nickole's help because I was aware that I'm not putting my health first. I'm a busy entrepreneur and just like many of us, I used to put everything else first but me. Initially I was scared that this would be a 'diet' type of approach and I that it would be very difficult to keep up with. I was so wrong. Nickole's approach is brilliant! She helped me to incorporate little things into my daily routine - things that make a huge difference. Since I started to work with Nickole, I now am much more health conscious, I eat better, I have more energy and generally, I look after myself better. As a bonus, I lost a little bit of weight. It wasn't my original objective for coaching, but hey, I'm not complaining. Thanks so much Nickole!" - Lenka
When sharing how SWIHA supported her entrepreneurial efforts and helped her in finding her niche, Nickole recalled, "While going to SWIHA, there is a lot of looking within. I went into my program with an open mind, and I was able to learn a lot about myself. The further I got into my studies, the more defined my niche became because I was getting more clear on who I was and who I could best help.
If asked, I would tell other SWIHA grads to follow their dreams and do what they love! You can never go wrong if you follow what you are most passionate about!"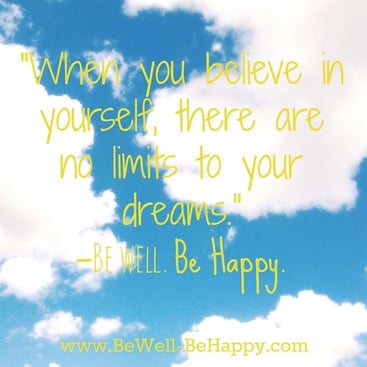 Nickole continued to share her gratitude for the life she is able to lead: "It's so amazing to be the expert and help others get to a better place! I'm so grateful for the opportunity to do what I love while being a work-from-home mom. It's a true blessing to help others live healthier and in return, show their family how to live healthier as well. This world needs more health and happiness and I'm so grateful to be able to bring just a little more of it to each of the clients I work with."
One of Nickole's favorite success stories was helping one client completely change her diet to healthier, cleaner options, without leaving her feeling deprived. "My client travels often, so finding ways for her to stick with healthy living while away from home was key. After working together, she emailed reporting that her trip has been the first trip she had taken where she didn't feel like she was in a food coma. She was thrilled that I had help inspire her to make better choices and she was actually able to enjoy the trip!"
"This world needs more health and happiness and I'm so grateful to be able to bring just a little more of it to each of my clients I work with."
Nickola's biggest piece of advice for SWIHA students: "To be open! While going to school at SWIHA, I learned so many new things because I was open to receiving. This allowed me to really focus on what excited and interested me the most. I was able to develop into the practitioner I am today. As a SWIHA grad, I'd say to keep following your dreams! As an entrepreneur, it can be hard at times. It may feel like a lot of work to reach a place where you feel business success, yet when you are doing what you love and following your dreams you WILL be successful. Be true to you!"
Now that Nickole Swensen has built up her brand, she shares it online for like-minded peers and prospective customers to connect with her easily. "I love utilizing social media to get my name out there! I'm pretty active on my social accounts and love interacting with clients and potential clients through fun posts. I've also been working with local business to introduce myself and my services, because I've found in-person and word of mouth are the best forms of marketing there is!" Nickole has an impressive online presence and can be found at all the following links!