By Nancy Jackson, Online Exit and Placement Specialist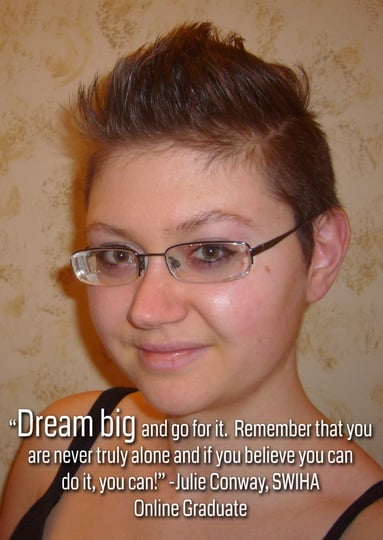 An environmental science major turned holistic entrepreneur, Julie Conway has an interesting story about what brought her to Southwest Institute of Healing Arts (SWIHA). Her journey started before she even heard of SWIHA, when she had to drop out of college as an environmental science major due to a debilitating illness. "Healing became a full-time job," Julie writes on her website. She had every intention of finishing her degree, however, months and then years passed, and she was still physically unable to return to school. Eventually she gained enough strength to take online courses, but soon found herself overwhelmed and dropped her classes. She prayed, asking "what now?" She was nearly floored when she heard "a voice tell me to do nothing, just heal." It was a huge leap of faith for her to trust that voice, and to put her goals on hold. She prayed that when the time was right for her to continue her education she would know it.
Having experienced personal healing using alternative therapies similar to what is taught at SWIHA, Julie became interested in learning more about those therapies. Searching online for holistic psychology degrees, she discovered the Mind-Body Transformational Psychology Online degree offered at SWIHA. "I contacted the school and instantly loved its energy. I felt like this was the sign I had been waiting for so I enrolled and was taking classes only a few weeks later. It was an excellent decision that has truly provided so much transformation."
Recently graduated, Julie is currently working on launching her stress-management and trauma recovery business, called Conway Spirit Farm. The business began as a flower farm but the name stuck, and the business morphed in to something bigger. Using a combination of modalities she learned at SWIHA, such as life coaching and meditation, Julie is looking forward to sharing what she learned with others. Whether it's during a session with a client or in a casual conversation with a friend, Julie says that the ability to cause a "shift" in someone's thinking – the "aha" moment - gives powerful meaning and purpose to her life.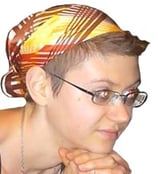 "The Mind Body Transformational Psychology degree at SWIHA could be renamed 'Aha!'" Julie jokes. "It really is life-changing."
As a result of her training at SWIHA, "I am now better able to connect with others, hear the unspoken, and approach interactions in a heart-centered manner." She says she is amazed to be able to provide a space for transformation just with intent and mindset. "Sometimes, all I have to do is listen, and the other person benefits." Julie believes this is a powerful energetic tool to be aware of and to tap in to.
Julie says SWIHA's online program exceeded her expectations. "I felt personally connected to instructors, as well as students, without ever meeting them in person." She was very impressed by the amount of time and detail her instructors invested into communicating with her and other students. Conway Spirit Farm serves self-motivated and spiritual women who are ready to change their lives by transforming themselves. Clients come to Julie to recover from anxiety, fear and worries typically developed from a history of trauma or abuse. She is currently working out of her home in south central Pennsylvania and offers sessions to clients who live out of the area via phone, Skype and Google Hangout. She is planning workshops and presentations and is developing additional stress management services as well.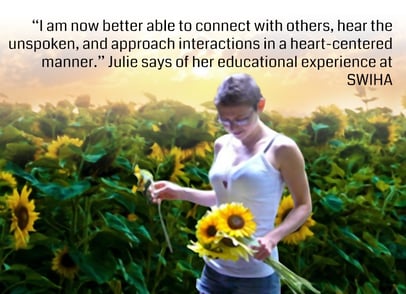 Julie feels that completing the Mind-Body Transformational Psychology Online degree at SWIHA was a developmental experience. "All of my experiences have shaped me, but SWIHA is definitely on that list of formative experiences," she says. If she could leave future SWIHA graduates with a dose of wisdom, it would be this: "Dream big and go for it. Remember that you are never truly alone and if you believe you can do it, you can!"
To learn more about Julie or to book a session with her, visit her website ConwaySpiritFarm
or her blog.
Interested in learning more about SWIHA's online programs? Check out the Online Education
page on the SWIHA website, or call 480-994-9244 and ask to speak with an admissions advisor about online programs.