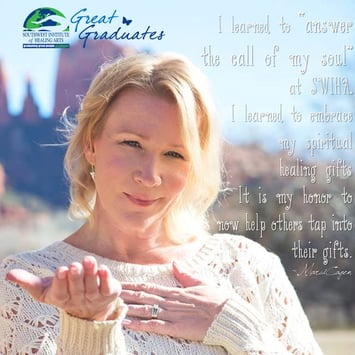 Published Author. Massage Therapist. Teacher. Spiritual Coach. Aromatherapist. Clinical Nurse. Holistic Entrepreneur. These are just some of the many titles Marci Cagen can put on her resume. A graduate of SWIHA's Massage Therapy program, Marci's interest in massage therapy and holistic health stemmed from her years of experience as a clinical nurse, and grew into a business that extends beyond one or two holistic modalities.
"I originally enrolled at SWIHA while I was working as a clinical nurse at Phoenix Children's Hospital so I could learn some alternative therapies that would support the patients I worked with," Marci explains. "They were in so much pain, and I wanted to be able to offer healing modalities that would complement the medications they were prescribed, alleviating associated side effects, while offering support to the mind, body, spirit and emotions." Marci's interest in reflexology guided her to massage therapy, and multiple other healing modalities followed. Once she completed her massage therapy program, Marci felt she needed to leave her nursing career to "answer the call of my soul." During her time studying at SWIHA, she learned how to embrace her spiritual healing gifts, and upon graduating, Marci began to create a life of helping others tap into their spiritual gifts.
Marci started her business, Breathing Space, LLC, almost immediately after completing her program at SWIHA. Combining her background in nursing with her knowledge of massage therapy, spirituality, aromatherapy and herbalism, through Breathing Space she helps empower others to live happy, healthy and love-filled lives. Marci does this in a variety of ways. She meets with clients and holds personal face to face appointments at her office in the East Valley of Phoenix, where she's based. She also teaches classes and workshops throughout the state of Arizona, as well as hosting retreats and offering private healing sessions.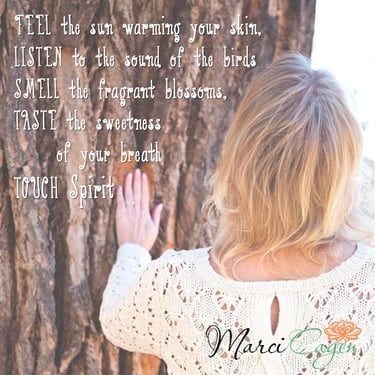 It took time, hard work, and faith to find clients, however, today Marci has built a loyal client base. While most of her clients are women, a number of men will attend Marci's classes and workshops. Clients find Marci and Breathing Space for a number of reasons; most often they are seeking personal empowerment, spiritual growth or permanent solutions for emotional or physical blocks. A typical session or private appointment is customized to address the specific needs of the client, enabling Marci to help them find the path to the physical and emotional wellness they are often seeking. Every session is unique and will be based on what the client's needs are in the present moment.
"I offer each client a personalized holistic protocol which includes dietary, lifestyle, and herbal suggestions. Most protocols will include a suggested use of an individualized essential oil blend, flower essences, herbal extract or tea, depending on the information gathered."
Working with clients and holding classes and workshops are just a small part of the much bigger picture that is Marci Cagen and Breathing Space. Actively involved in the local holistic community, Marci conducts informational outreach work at local universities, libraries and medical facilities. She is the author of 365 Days of Angel Prayers and Living your Purpose, which she sells through her website, along with dozens of other products.
Teaching others is a way for Marci to honor and acknowledge her teachers, especially the ones she worked with at SWIHA. "It is as if their teachings continue to reach others through me," Marci says of her SWIHA instructors. "Together, we have a tangible ripple effect on the world, one soul at a time!"
How do Marci's clients learn about her business and services? "I use a lot of social media
," she says of her marketing efforts. "I think the strongest tool I use is my Constant Contact email," she goes on to explain, regarding the monthly e-newsletters she sends out to clients and potential clients. These newsletters are effective because they promote Marci's specials and upcoming classes and events.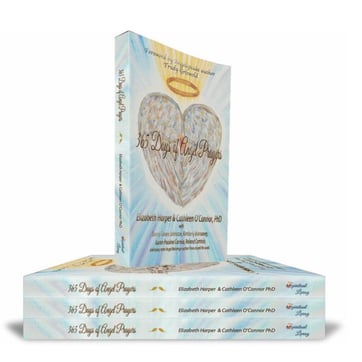 "My blog
is also a fabulous tool for people to use," Marci says. "It offers recipes and unique articles to inspire emotional and physical wellness. People love it!"
Breathing Space is a successful holistic business because Marci has always followed her heart. "It will never steer you wrong," she says. She tells others who hope to create a successful business, "If you can dream it, you can do it!"
"I never dreamed I would be doing the work I get to do now. I LOVE teaching others to tap into their own inner wisdom and healing abilities. It is my passion! Even if I never got paid, I would do this work. It fills my soul and allows me to have a connection beyond my wildest dreams! I really am living my dream!"

Marci Cagen
To learn more about how you can enroll in a program at SWIHA and become a successful holistic entrepreneur like Marci,
please visit www.swiha.edu or call 480-994-9244 and ask to speak with an Admissions Coach.