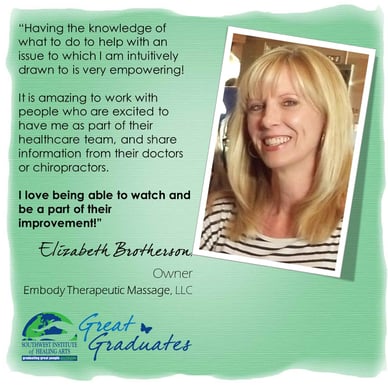 Like many students who attend SWIHA (Southwest Institute of Healing Arts), Elizabeth Brotherson came to the school looking for an alternative career path. She was hoping to supplement her income as a preschool teacher by earning a living doing something she was passionate about. Elizabeth had always been drawn to energy work and had a natural intuition for knowing when someone might need help or healing, so when she found SWIHA, she knew it was the perfect fit for her.
"SWIHA embraces the total embodiment of the healing arts, encouraging you to use your natural abilities, while giving you the tools to take it that extra step to make you a successful therapist," she explains regarding what attracted her to SWIHA.
Elizabeth, or Beth, as she often goes by, enrolled in SWIHA's Professional Massage Practitioner 750 hour program, and immediately began her journey to becoming a Licensed Massage Therapist. She says after starting her first myotherapy class she was hooked! She went on to take every myotherapy class SWIHA offered, as well as deep tissue, massage, trigger point courses, and sports massage, in addition to core courses such as anatomy and reflexology.
The integrative, focused education Beth received prepared her to set out on a road to success. She graduated from SWIHA, and began working as a mobile massage therapist, bringing massage services to clients.
I am a mobile massage therapist.
I have the honor of traveling to my clients' homes.
For about two years after earning her massage therapy license, Beth worked part time as a mobile massage therapist while still working at the preschool. Once she built up enough of a client base to pursue a full time career as a massage therapist, she took a leap of faith and created her business, Embody Therapeutic Massage, LLC.
Embody Massage provides clients with therapeutic massage and healing services, such as deep tissue massage, reiki therapy, Swedish massage, myotherapy, and even body work. The majority of Beth's clients are 55 years of age or older, and many have chronic, long-term physical issues that benefit from receiving massage.
My clientele are looking for a more affordable and holistic approach to their healing. I often use range-of-motion, trigger point, deep tissue, and of course everything I learned from the myotherapy classes in my sessions.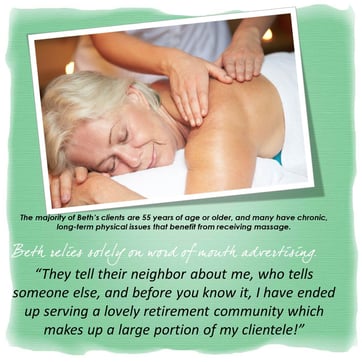 When it comes to marketing and advertising her business, Beth relies solely on word of mouth advertising. Referrals from her clients have made Embody Massage the business it is today.
"They tell their neighbor about me, who tells someone else, and before you know it, I have ended up with a lovely retirement community which makes up a large portion of my clientele," Beth explains, regarding her client base.
Many clients who come to Beth for the first time leave feeling extremely content. They often mention to her that they've "never had a massage like that!" She attributes this satisfaction to the feelings of empowerment she gained through her education at SWIHA, as well as her ability to be part of her client's "team" of health experts.
"Having the knowledge of what to do to help with an issue I was intuitively drawn to was very empowering," Beth says. "It is amazing to work with people who are excited to have me as part of their team, and share information from their doctors or chiropractors. I love being able to watch their improvement!"
Beth has worked with clients who experience a variety of physical issues and ailments. She currently works with a client who has Crohn's Disease, a serious digestive disorder. Through a combination of deep abdominal massage work, which breaks up scar tissue, and energy work, Beth is able to help her client, who now rarely experiences flare-ups.
I also have a client who suffered for years from fibromyalgia, having difficulty just doing day-to-day activities. This client has not had a severe flare up in years, we are now working on much deeper muscle groups that we were not able to get close to before.
Although Beth currently has a solid client base and a successful mobile massage business, she did experience some challenges when she first made the transition from part-time massage therapist to full time therapist and business owner.
"The most challenging part was letting go of expectations," she confesses.
The easiest part? Showing up and being in the present! She attributes this to her clients, who seem to be some of her greatest teachers.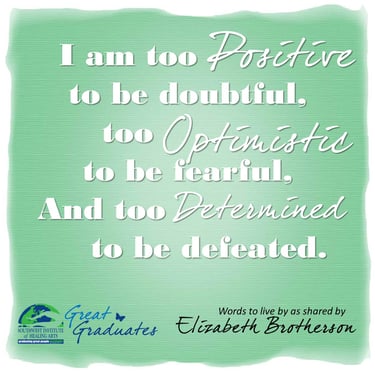 "Every client teaches something new, and I learn as much from them as I hope they can learn from me," says Beth. "My clients have provided me with guidance, friendship, referrals, well…. Pretty much everything I needed!"
She even advises future massage therapist to become a team with their clients and their healthcare professionals. "You have amazing opportunities for education and growth just by listening and being present!" she advises. "Follow up with your clients, give them a call after a session and check in with them to see how they are doing or if they have any questions."
The next start dates for SWIHA's Massage Therapy program are June 1st for the evening track or June 8th for the daytime track. Contact the Admissions Department at 480-994-9244
or email info@swiha.edu for more information on how to enroll in the massage therapy program.