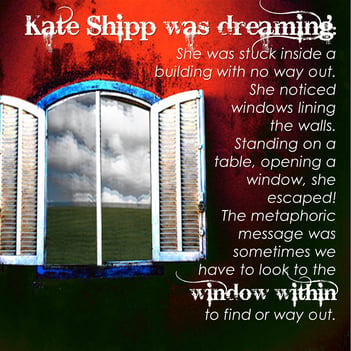 Kate Shipp was dreaming: She was stuck inside a building with a bunch of people, and it felt as if there was no way out. Every floor had a door, every door led to stairs which led to more doors and more rooms. She asked people in the rooms why they were there, and they told her they didn't know, yet they felt they had everything they needed, except a way out of the building. Kate looked up and noticed windows lining the walls. She stood on a table, broke open a window, and escaped, telling everyone that sometimes we have to look to the window within to find or way out.
This dream was a subconscious intervention of sorts, inspiring Kate to launch one of her businesses, The Window Within, a holistic wellness business that offering a variety of services including intuitive yoga therapy, energy healing, intuitive coaching and readings. Already a co-owner of the popular Santosha Yoga and Wellness yoga studio in Glendale, Arizona, launching another business was simply a natural next step for Kate.
Kate enhanced her entrepreneurial spirit during her time as a student in the 600 hour Yoga Teacher Training program at Southwest Institute of Healing Arts (SWIHA). Her teacher training program helped to unveil the potential within her that she had never previously tapped into or explored, enhancing her growth.
A passionate person, Kate found yoga after she gave birth to her first child, when her husband gave her a gift certificate for yoga classes. "After my first class I knew I found what I had been looking for – a modality that brought together everything!" Kate said, reflecting back on her initial experience with yoga.
"I was blessed to have holistic practices as part of my life from a young age, yet nothing integrated mind, body and spirit into one like yoga did for me."
Kate and her two business partners started their yoga studio Santosha
, which is the Sanskrit word for contentment and an important aspect of yogic philosophy. They wanted to bring a different kind of yoga to Phoenix's West Valley. The mission of the studio is to create alignment with mind, body and spirit through yoga and other holistic therapies. The teachers at Santosha meet each student where they are in their lives and in their yoga practice; the entire team of teachers offer a wide variety of modifications and therapeutic adjustments to allow for a safe, balanced and aligned practice.
"We wanted to bring a practice based on safety in the poses and alignment of body, mind, and spirit. We recognized the focus at other studios in often on the on asana – the yoga poses. We believed a studio was needed that not only taught smart, safe asana, and also integrated the other seven limbs of yoga in the practice and the way we teach."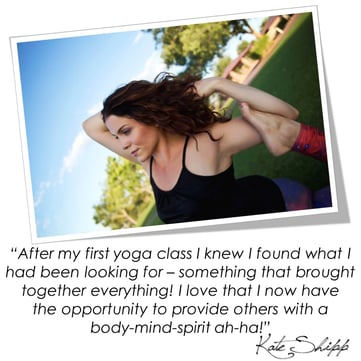 Now in their fourth year, Santosha offers over 35 yoga classes a week, ranging from Yoga Nidra to prenatal yoga, as well as Hatha Gong and advanced asana practices. Often referred to by its patrons as the "Cheers" of yoga studios, Kate, her business partners and the teachers at Santosha not only know every student's name, they make a point to learn about the lives of their students. From the first time a student steps through the studio doors, they receive a warm welcome, a hand reaching out, and a smile. Kate and her staff try to help every student, especially new students, feel safe, comfortable and at ease.
"We take time to connect to each student," Kate shares. "We have built a community where people explore yoga not only as something done on the mat, rather as a living practice of all eight limbs."
The mission of Kate's personal business, The Window Within, is to guide clients toward tools and practices with the intention to help them remember the radiant light that resides within their heart and to allow that light to be their guide.
"The Window Within is the place where peaceful stillness and radiance resides within each of us. It is in this clear space that we can truly see, hear and feel our divine light. When we allow ourselves to return to that space, we touch the earth and sky with every breath. We live in complete harmony and love with ourselves and with the world."

Kate Shipp
Kate's clients come to her hoping to dive a little deeper into understanding the body, mind, and spirit connection. They are usually looking for more knowledge and practices to help them explore their inner world in new ways. Some are healing from emotional trauma, while some might be healing from injury, or are in a state of pain due to long-term physical pain.
When a client enters into Kate's space during a session, they are first offered a place of presence. Although each and every client session is different depending on their needs that day, Kate makes sure to not have any agendas or create any judgements or expectations for the session. She simply provides a space where her client can explore their inner world from a place of compassion, healing and love.
"Whether it's through yogic practices, energy healing or intuitive messages, the client is met where they are on all levels of being, and given space to journey inward and connect to their own guidance and light,"

Kate Shipp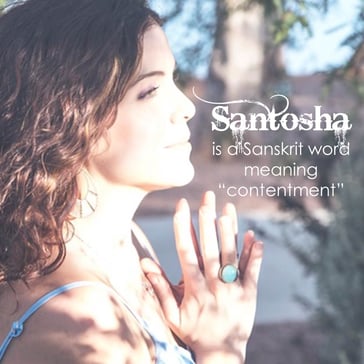 With two businesses to manage, as well as two children to help raise, Kate is always busy. However, she makes sure she has time to effectively market both of her businesses. She takes full advantage of using the internet and social media to market her businesses, as well as other forms of grass roots marketing for both Santosha and The Window Within. In addition, she relies on word-of-mouth marketing and perhaps most importantly, Kate attends networking events in an effort to spread the word about both businesses and allow herself to connect one-on-one with people.
As a result of being a dual business owner, Kate has plenty of valuable advice for others who are hoping to launch a business. When she began both her businesses, she says the most challenging part was getting past the fear, or the "what ifs," as she calls it.
"The passion, purpose and desire have always been there," she reflects. "Fear will always have a presence , yet instead of allowing fear to put up road blocks, I learned to allow fear to be there as part of the practice and move through it using yogic practices."
She advises those who are hoping to become business owners or holistic entrepreneurs to dive deep, explore, and enjoy their journey.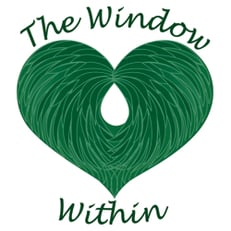 "The more you know about yourself and work through your own experiences, the larger your capacity to hold a safe space for others. The more you tap into your unlimited potential, the more you will be able to help others do the same."
This is exactly what Kate did, and because of it, she is clear about the benefits of holistic entrepreneurship: "The easiest part is serving the community," she says happily.
For more information about Kate and The Window Within, take a look at her website: www.thewindowwithin.com.
SWIHA starts a new track of yoga teacher training on May 18th and June 8th.
To learn more about the yoga teacher training program at SWIHA, visit the website or call 480-994-9244 and ask to speak to an Admissions Coach.