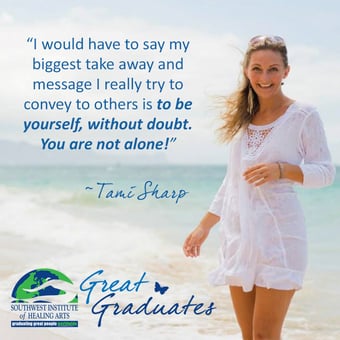 Like many SWIHA students' stories before, the school just happened to find Tami Sharp. She had just moved to Arizona from Maui, Hawaii with her baby girl, so that she could be closer to her mom. Tami recalled the synchronicities that led her to joining SWIHA. "I had no intention on starting school but after a series of universal events, I tripped across SWIHA and within one week's time found myself enrolled full time going for a degree in Mind-Body Transformational Psychology with Certifications in Life Coaching, Clinical Hypnotherapy and Reiki."
Before moving to AZ, Tami had spent 10 years on Maui doing a wide range of jobs and businesses. As a professionally trained model and actress, she also had the honor of teaching modeling and acting to teenagers and young adults. It was through these teachings that she really found passion in helping others see their inner beauty, to find their own style and confidence, to believe in themselves and reach for their goals. "I was inspired everyday by these youths. I have helped with a lot of workshops, conferences and public speaking events and am passionate about inspiring others to live their most authentic and fulfilling lives."
Going into SWIHA, Tami was aware of her intuitive abilities, yet SWIHA really helped her to develop and grow them.
"I would have to say my biggest take away and message I really try to convey to others is to be yourself, without doubt. You are not alone, no matter what you are going through, there is someone else out in the world going through something very similar, if not the same. SWIHA is more than a school, it's a tribe or Ohana, which means family in Hawaiian."
"SWIHA is more than a school, it's a tribe or Ohana, which means family in Hawaiian." ~ Tami Sharp
Before starting SWIHA, Tami had a vague idea of the direction she wanted to go, yet was overwhelmed by all the options and didn't know where to begin. Once she got into SWIHA, she was able to gain a deep sense of insight and clarity. Tami shared, "The school is extremely flexible, understanding and supportive when students feel like going in a different direction than they originally had decided. The school is in such flow of energy that it really allows students to transform without pressure, and allows them to grow into a flow themselves."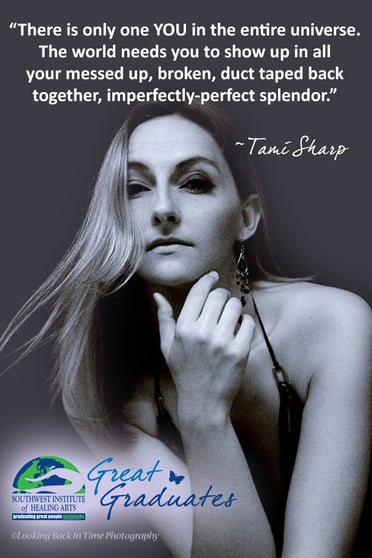 Throughout Tami's whole life, she always wanted to help other people. She was never clear on what this would look like until she got to SWIHA. She is now a Certified Life Coach and will also be a certified Clinical Hypnotherapist and Reiki Master, and will hold a degree in Mind-Body Transformational Psychology.
Tami shared her inspiration for choosing the Life Coaching program:
I started the Life Coaching program with the intention to soften my delivery of my intuitive hits, or ability to cut through someone else's story. I wasn't always very tactful in this regard and I wanted to learn tools to have a less abrasive approach. The Life Coaching program definitely supplied the appropriate tools along with shifting my mindset around what others are coping with and how to best assist them.
From there, her Psychology degree opened her eyes to all the ways she could be of service to others and how she can use her natural strengths and abilities to help others for the greatest, highest good. Mixing these tools along with Reiki energy work, Ayurveda, Hypnotherapy, Chakra balancing, intuitive studies have given Tami the knowledge, confidence and passion to actually be able to make a positive difference in someone else's life. Tami says, "no matter what someone is going through, I am equipped to help shine a little light into their life and if I am not the light that they need, I certainly know someone else that has a light that will shine for them until they are in the place to recover their own light. Does it get any better than that?"
Tami's big dream business is called Unshakable Roots
. Heal as you go: Mind, Body and Soul. This business is made up of herself, as well as a team of other holistic wellness practitioners. "I have created a business that works best as a team of supportive, like-minded healers all working together to help make genuine transformations in people's lives, including our own. My intention behind Unshakable Roots is to help lift everyone up in vibration." Their focus is on getting to the root of one's issues, as opposed to simply treating the symptoms. "My team all has their unique gifts and specialties that they bring to the table so that together we form an amazing, 'unshakable' team of healers. Together we form a strong unit that offers one-on-one and group coaching, Nutrition Consulting, Ayurvedic Consulting, Massage, Hypnotherapy, Polarity, Reiki, Astrology, Numerology, Tarot Card Readings, Creative Expression, and many other forms of healing modalities."
Tami also has her personal business, where she markets herself as an Intuitive Life Coach and Public Speaker. "I have decided that in order to make a bigger contribution to the well-being of others that it is wise to play to my strengths and show up in forms that I am excited by. I enjoy speaking at events, leading and speaking at workshops, seminars, retreats." She is certified as an Intuitive Life Coach, Clinical Hypnotherapist, and will be adding Reiki Master to her credentials as well. Most recently, Tami has also been appointed the Director for Dream Talks Arizona (similar to TedX), and now has the exciting opportunity to bring full-day motivational speaking and networking events geared towards entrepreneurs and lightworkers to life!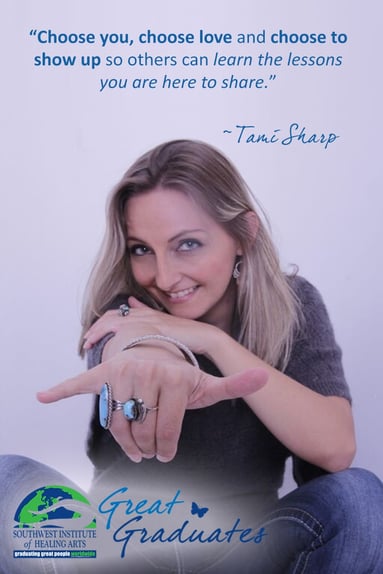 What can one expect in a session with Tami? Though the experience is really up to each individual client and how open they are to transforming their lives, ideally at the very least, a client will experience some clarity around clouded issues. Tami joyfully shared what else one might expect in a session:
"A-ha moments happen frequently. Excitement, passion, confidence, motivation, support, love, compassion, and feeling heard are qualities we strive for the client to achieve. We often see massive transformations happen on all levels. Physical appearances transform on many levels. Incorporating nutrition consulting, Ayurveda and other healthy choices, not only do people lose weight, but with the new found confidence and zest for life, their vibration rises and a noticeable energy is seen and felt."
Tami's ideal clients are those that are serious about making transformation in their lives and are ready to embark on the journey. While her team has a variety of styles and approaches when working with clients, Tami has a more direct, cut through the fluff and get to the truth of the matter approach. "Though every client I work with is held in the utmost love, compassion and safety and I hold space in an authentic neutral way, I also will help the person get to their blunt, raw truths revealed."
Tami's group Unshakeable Roots has an office located in Mesa, yet they also work from their homes, as well on the phone and sessions via Skype. Tami revealed that they also hold workshops and seminars all across the Phoenix area and will be branching further out as well!
Tami has the following inspiring message to share with future or recent SWIHA graduates:
First and foremost, breathe. Learn how to stay grounded and present. Allow yourself to go through your own healing journey and honor it for all the lessons, strength and insights it provides. Getting to really know yourself and really owning who you are, is the greatest gift you can offer others. Secondly, you don't have to have all the answers or know 'how' it's going to play out. You just need to start. It's ok to trip over yourself; to fall, to fail, to mess up, to make mistakes … There is only one YOU in the entire universe. The world needs you to show up in all your messed-up, broken, duct taped back together, imperfectly-perfect splendor. Even though many times it may not feel like it, the world really does want you to succeed. Your success solely depends on how you perceive life and choose it to be. Choose you, choose love and choose to show up so others can learn the lessons you are here to share. Keep it simple.