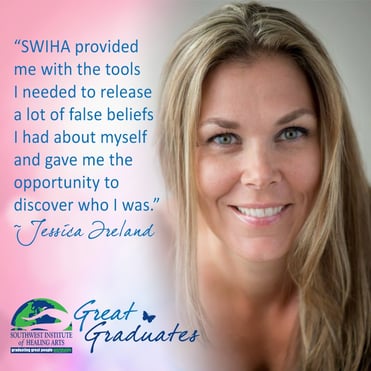 Prior to registering at SWIHA, Jessica Ireland was, in her own words, "barely existing."
"I lacked a post-secondary education, and the 15 years I worked in the finance industry meant nothing while I was applying for employment during the recession. I was struggling to put food on the table and keep a roof over my head, while spiraling further and further into a state of depression."
After receiving a steady stream of rejection letters from potential minimum wage employers, Jessica realized that unless she obtained some form of post-secondary education in an area that was growing throughout North America, she would eventually end up homeless and hungry. Enter SWIHA.
"As soon as I discovered SWIHA, I knew that my search for the school and the education I desired was over. I relocated my 3 dogs and myself from Calgary, Alberta Canada to Phoenix, Arizona and haven't looked back since." Jessica shared how SWIHA allowed her to shed the weight of her past, while discovering her dreams and tapping into her infinite potential.
"SWIHA provided me with the tools I needed to release a lot of false beliefs I had about myself and gave me the opportunity to discover who I was. I was able to let go of so many things from my past that were holding me back and not contributing to my life. I am now able to look at my life from a place of love, acceptance and forgiveness and I am a much happier and confident person."
Jessica graduated with an Associate of Occupational Studies Degree in Holistic Healthcare and obtained certification in Clinical Hypnotherapy
, Transformational Life Coaching, Holistic Nutrition Specialist and a diploma in Yoga Teacher Training.
Jessica wanted to do something with her life that allowed for her to contribute positively to people's lives and earn an income, while making a tangible difference in the world. "I can say with complete certainty that some of the teachers at SWIHA helped build the passion I already had, by the passion they exuded during the classes."
So what does Jessica's business specialize in? According to Jessica, Create YOUR Fertility LLC
works with individuals and couples to create fertility naturally, by offering a supportive, healthy and relaxing environment to reflect, heal and connect. She shared how there were many areas that she thought about specializing in, but it became clear to her that infertility was the one field that resonated with her the most.
"I felt a tremendous amount of compassion for the individuals and couples that were experiencing infertility but were unable to afford the cost of conventional medical treatments, or simply did not want to endure the intrusive treatments to become pregnant. This is when Create YOUR Fertility was born and began to manifest into what it is today."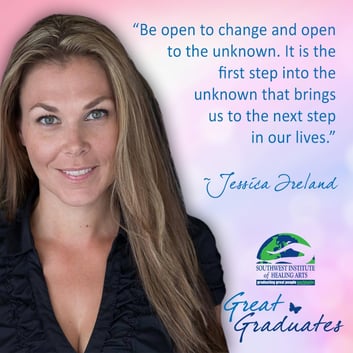 Through Create YOUR Fertility, Jessica offers workshops, weekend retreats and destination retreats where her and other fertility experts empower guests with tools to create natural fertility, through modalities like Fertility Hypnotherapy, Fertility Coaching, Holistic Nutrition, Reiki, Fertility Massage, Aromatherapy and Fertility Yoga. Jessica revealed how she introduces clients into creating fertility naturally through working with the subconscious mind, releasing limiting beliefs, removing mental and physical blocks, and engaging in healthy self talk and communication.
"We also explore how the choices of what we put into our bodies, may or may not contribute to fertility, and the effects that the environment, stress and anxiety has on our body and overall health." Jessica went on to share what one can expect from a workshop, or a weekend/destination retreat.
"During the workshops, our expert fertility consultants will provide invaluable information, education and tools to empower our guests to help create fertility naturally.
Upon completion of the workshop, they will have an overview and general understanding of whatever changes they wish to make in their day to days life, to increase their chances of becoming pregnant.
During the weekend retreat and destination retreats, our guests will remain onsite (at one of a variety of retreat locations). This is where our expert fertility consultants will begin to implement the information, education and tools into our guests' life that they discovered at the workshop. This will provide them with the instruction, guidance and supervision to commit to building an optimal environment to create fertility naturally.
Our guests can begin the day by participating in a session of Fertility Yoga, where they will experience the movements to help open up their bodies and prepare for fertility. We will teach them how to prepare healthy and nutritious meals and why it is so important to select specific foods to help optimize their overall feeling of wellness. We will provide opportunities for guests to help release limiting beliefs and remove blocks through a variety of guided meditations and fertility coaching exercises. Our Fertility Massage Therapists will be onsite at the weekend retreats to provide one complimentary couples massage to each of the couples that attend the weekend retreat, to help wind down and connect at the end of a full day.
During the destination retreats, couples will be able to experience a one-on-one hypnotherapy session, a couples fertility coaching session, a Reiki session and/or a couples massage. There will be planned group activities to help release the blocks, stress, anxiety, fear, limiting beliefs and other negative thoughts from our everyday existence. We will focus time on building positive experiences and bringing couples closer together. There will be ample opportunity for couples to reconnect and share intimate time together in the comfort of their comfortable private accommodations."
Jessica's workshops and weekend retreats are currently offered in Arizona, and the destination retreats will be available in countries and states like Costa Rica, Nicaragua, Mexico and Hawaii. In addition to Create YOUR Fertility, Jessica is also the Founder/President of a non-profit organization called Breaking the Cycle of Poverty
that helps break the cycle of generational poverty in San Felipe, Mexico.
"In my spare time, my husband and I rescue dogs scheduled to be euthanized, foster for dog rescues and work on rehabilitating dogs so that they are adoptable. Life is certainly a lot different than it was 4 years ago!"
When asked what the most challenging aspect of starting her business was, Jessica shared her intimate struggles with overcoming the obstacles, both self-imposed and external, which challenged her along the way.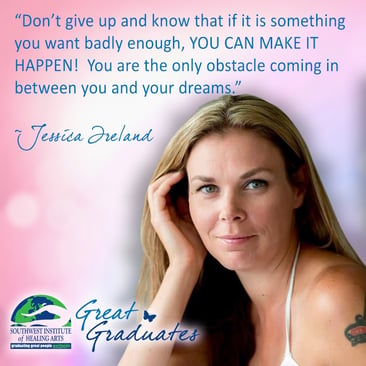 "The most challenging part about starting my own businesses was overcoming obstacles. Unfortunately, with every obstacle I encountered, I doubted my abilities to be successful and would begin looking for employment. This would end up becoming a vicious circle for me because with the struggling economy, I would apply for dozens and dozens of jobs and would not be called for a single interview. I would then focus my attention again on building my business, yet as soon as I encountered another obstacle, I'd quickly resort to applying for dozens and dozens of jobs again, to no avail. There are only so many hundreds of jobs that you can be rejected for, before you realize that YOU have to believe in yourself and your abilities! Sometimes the universe is guiding us on the path we are supposed to be on, but if we are too busy trying to jump on the boat, ride in the car, hop on the bike, and swim in the lake, we are not on the right path."
When asked what the easiest part about starting her own business was, Jessica shared that there really wasn't an easy part. Despite the initial uphill climb to start her business, Jessica wouldn't have changed a thing. "I can honestly say that the entire experience has been enjoyable and I have learned so much along the way. I have met some truly incredible people that have contributed positively to my life in so many ways, and I have been exposed to so many new things that I would not have been otherwise."
Jessica shared these inspiring parting words for future and recent SWIHA graduates.
"When you discover your gift, believe in yourself, persevere, work harder than you have ever worked before, and follow your dreams. Don't give up and know that if it is something you want badly enough, YOU CAN MAKE IT HAPPEN! You are the only obstacle coming in between you and your dreams… Change can be exactly what you need for where you are at in your life. Be open to change and open to the unknown. It is the first step into the unknown that brings us to the next step in our lives."
You can reach Jessica at the following links: www.createyourfertility.com and createyourfertility@gmail.com