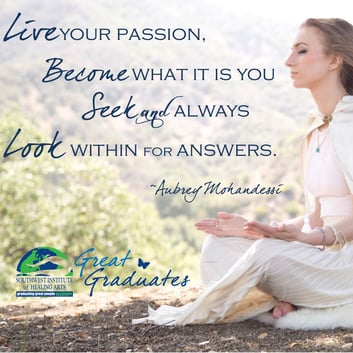 A spiritual alchemist, Aubrey Mohandessi's work centers around transforming people, helping them move forward and empowering them to be their best selves. While the term alchemy or alchemist is often associated with chemistry and metals, the action of transforming or transmuting is the same, whether it's mineral based or with people. Aubrey's business, Aubrey Mohandessi Life Coaching & Spiritual Coaching, offers life coaching, spiritual counseling, hypnotherapy and toe reading to people looking to discover the deeper meanings of life and truths within themselves.
As a graduate of the online Mind-Body Transformational Psychology program at Southwest Institute of Healing Arts (SWIHA), Aubrey developed a vast amount of skills and tools that prepared her to bring her spiritual gifts out into the world. "Everything I've learned while enrolled at SWIHA helped me to develop my own business as well as broaden my understanding of what it means to live a well-balanced life mentally, physically and spiritually," Aubrey says.
"Everything I've learned while enrolled at SWIHA helped me to develop my own business as well as broaden my understanding of what it means to live a well-balanced life mentally, physically and spiritually"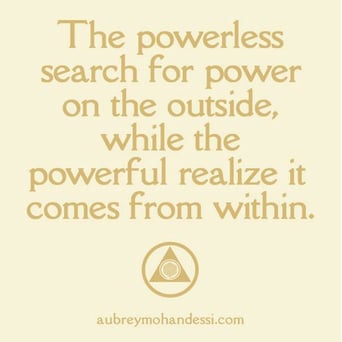 Aubrey uses her own personal life experience – transformations she's experienced, hardships and major life events – as a catalyst for her own personal evolution. She then brings this experience to her clients to help empower their personal transformation.
"I help others become conscious creators of their own lives and assist them in reaching their full potential," she says. "I believe all the answers already reside within you, so I help people to articulate the life they want to live."
Most humans are seekers. Some might seek to understand, instead of seeking to be understood. Some might seek a higher power, or some might be seeking enlightenment, but most of us are seeking something.
Aubrey can relate to this, considering herself a "seeker at heart." This desire to seek has become a reflection of the types of clients she works with. She refers to them as seekers as well. "My clients are seekers and those who have known throughout their life that they are somehow a little different from those around them."
While Aubrey's business is thriving, she did experience some challenges getting started. "The most challenging part was taking that first step," she says. She had some fear around putting herself out there, since she views her business as a part of herself. Aubrey also needed to spend some time deciding how she wanted to present her services and express her message clearly. "Once I figured it out, writing content for my website and information for my clients became a breeze," she says.
After moving past the struggle of getting started, business was easy! Aubrey says the easiest part about starting her business was knowing she was ready to begin seeing clients. She is a holistic entrepreneur, and is grateful to SWIHA for helping her become aware of what it means to live holistically. She takes a holistic approach when working on her business or with clients, and is passionate about offering services such as spiritual coaching, life coaching and hypnotherapy which will improve the lives of others by helping them become more aware, whole, and happy. "The holistic approach makes it so I am able to help and assist my clients in several aspects of their lives. I feel confident that I can address their mental, physical and spiritual needs," Aubrey says.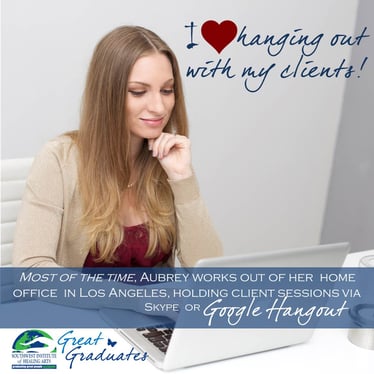 Aubrey helps others come into their own – to seek and find the answers they have within themselves in order to become empowered within their lives. She also conducts sessions over the phone or over email. Because of this remote access, Aubrey is able to see clients all over the United States and the world, all from the comfort of her home office or even her favorite coffee shop!
Aubrey knows from experience that starting a business doing what you love can be scary and hard, but she encourages her fellow SWIHA grads to continue to follow their dreams. "In order to really be able to help and assist others you have to first take the journey yourself," she advises. "Live your passion, become what it is you seek and always look within for answers."
"SWIHA helps you attune your lifestyle with your career path so that you are better equipped to help others. SWIHA's programs are designed to make sure you not only know the skills needed to become a holistic practitioner but that you have the knowledge and resources to become an entrepreneur."
Connect with Aubrey through her website
, her Twitter, or her Facebook page.
Interested in learning more about becoming a holistic entrepreneur, helping others through healing modalities such as life coaching and hypnotherapy? SWIHA offers the Mind-Body Transformational Psychology program on-campus
or online. For more information contact the Admissions Department at SWIHA by calling 480-994-9244 and ask to speak with an Admissions Coach.