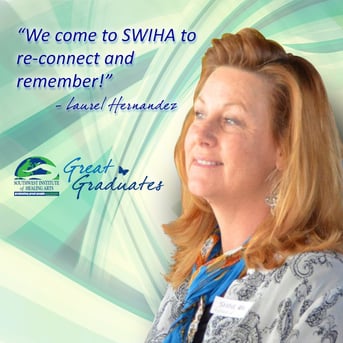 Laurel Hernandez definitely had a heroic journey in terms of her path to the Southwest Institute of Healing Arts (SWIHA). In 2005, she spent six months on pain meds and in a back brace after a quad accident. What she didn't realize is that her life was about to take a 180 degree turn. Laurel recalled how her incredible and arduous path all began: "I had back surgery for a fracture that didn't heal, got a divorce after 25 years, left a great job of 19 years, moved to a new state leaving family and friends behind, went back to school for a career that didn't suite me, became a caregiver for my parents before they both passed, and I had lived in a ten mile radius of where I was born for the past 50 years!" All of this left her feeling lost and hopeless. Yet deep down, she knew that healing from within was what was really needed.
They say that Spirit works in mysterious ways, and it wasn't until Laurel had a channeled session from a friend that her journey to Spirit, and to SWIHA, truly began. The week after her mother transitioned, her mother's spirit came through to her in a channeled session, guiding Laurel to forgive herself, and let go of her past so as to be healed. More specifically, her mother urged her to look into Life Coaching -- something Laurel had never considered before.
Recalling this profound moment, Laurel said, "My mom is the only one that could have possibly conveyed to me that I could forgive myself and let go of the past… I had no idea what Life Coaching was, how much I was going to need it for myself or what my gifts were."
Shortly thereafter, she researched SWIHA and enrolled in September, 2012. Laurel excitedly confessed, "Little did I know that one class was going to lead me on this incredible journey!" Tears streamed down Laurel's face as she recalled the first time she woke up to Spirit and unconditional love: "I was in a Life Coaching class, and a classmate told me that 'Forgiveness is Free'! You don't have to wait for it, ask for it, and prove worthiness to have it."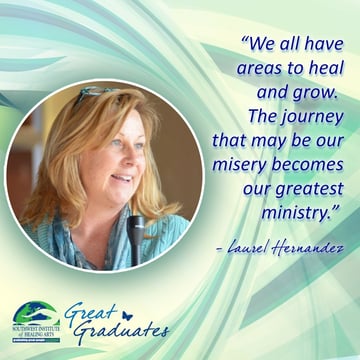 As Laurel continued her SWIHA journey, she recalled being in a Transformational Reiki class, where the class was discussing energy: "A light came on in my heart and I raised my hand. I told the class I felt like I was learning so much in one class…" And then the words popped out of my mouth, "Correction… I am remembering so much in this class! We come to SWIHA to re-connect and remember!"
Tears streamed down Laurel's face while she recalled the first time she woke up to Spirit and unconditional love. A classmate said, "Forgiveness is Free! You don't have to wait for it, ask for it, and prove worthiness to have it."
Laurel's passion for all that SWIHA has to offer is rooted in her love for engaging with people, sharing what she likes to call "soul support" for one another.
She described this soul support as "…synergistic, it's a like a bridge. We don't have to be separated from anyone or anything." Laurel continued to share, saying: "When our light comes back on we begin to re-connect with love and nature. Our inner Light affirms how connected we are and shows us the purpose and gifts we are here to utilize."
When asked what she learned at SWIHA that held the most significance for her, Laurel reported on the valuable business skills she learned about being an entrepreneurs, learning how to value and market herself, as well as the lessons of the 'Hero's Journey', rooted in the teachings of Joseph Campbell. Regarding her Hero's journey, Laurel insightfully affirmed, "To be authentic includes showing some of our vulnerable self. We all have areas to heal and grow. The journey that may be our misery becomes our greatest ministry."
Laurel graduated from SWIHA with an associate's degree in Transformational Psychology
, along with certifications in Life Coaching, Clinical Hypnotherapy, Transformational Reiki, and Spiritual Studies. To top it all off, in December of 2013, she became an ordained minister, in a ceremony facilitated by SWIHA Founder, KC Miller.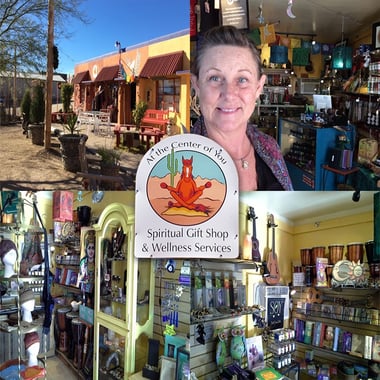 A year before she graduated from SWIHA, Laurel opened up her own healing center and spiritual gift store in Wickenburg, Arizona. She had been seeing clients at her home, however, as her program came to a close, Laurel felt called to create a healing space of her own, one where she could share her modalities with the public, while also serving as a spiritual gift store.
Laurel's shop, aptly named At the Center of You, is actually partly modeled after SWIHA's own Healing Pages Bookstore! On the wellness side of the business is a room used for meditation classes, study groups, life coaching, body work and energy work. Laurel described her store as a "feel good, smell good store," one where everyone is "invited to leave their stress at the door." She gives her customers (who are mainly tourists, locals and snowbirds) a chance to unwind and really enjoy the store, as they are greeted by an aromatherapy diffuser, a large display of body products that they can test, alongside soothing background music. Laurel mentioned how people identify the sights, sounds and smells with a spa setting, which inspires people to ask her about what services she has to offer.
So what services are offered up At The Center of You?
Tom Kreienbrink, a fellow SWIHA graduate, provides massage, reflexology and cranio-sacral therapy, while Laurel sees clients for Reiki, Toe Reading, AromaTouch, Life Coaching and Hypnotherapy, after store hours. Laurel shared how clients have come to her with little or no experience with the services she has to offer: "I tell them directly from my heart that I am able to help bring out the best in them through what guides them, even if they don't know what that is yet. I facilitate the energy they are already connected to, and I always promote self-love and compassion. I encourage self-awareness to help a client find their next footing. Every step taken helps us to become more self-aware, as long as we are open to it."
I love the saying, "You are the person you've been waiting for. Fall in love with you." She went on to share that the clients that resonate the most with her are those who seek a mirror of compassion for healing, and are typically women of late teens and up: "I will reflect, question, and draw out what is being held on to, and they decide if it serves their highest good. I honor their journey. I will stand beside someone rather than pull or push someone."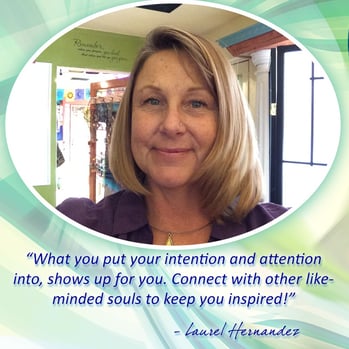 "You are the person you've been waiting for. Fall in love with you" Laurel Hernandez
When asked what it feels like to apply her SWIHA knowledge in a session, Laurel sincerely said, "I feel the most satisfied when I am in service to and connecting with others on a level of compassion and non-judgement. I have love for myself, and when we can love ourselves, we can truly love others and live life! I honestly feel the most peaceful, happy and honored when I finish the day."
Laurel doesn't plan on stopping anytime soon, as she studied at the Chopra Center in California and became certified in Primordial Sound Meditation. She is also planning on getting her Yoga Teacher certification at SWIHA next.
Laurel had this to say to future SWIHA graduates who might hope to follow in her footsteps: "I had questions during my program that weren't in a book, like "Who is going to want my services?" or "Will I ever know enough to be good enough to make a difference in the lives of others?" I'll tell you, we will always be learning and there is no such thing as knowing enough. Be natural and authentic in conversations and maintain the mindset of "How can I be of service?" What you put your intention and attention into, shows up for you. Connect with other like-minded souls to keep you inspired!"
You can out more about Laurel's and her healing store at www.AtTheCenterOfYou.com
and you can follow Laurel on Facebook: At The Center of You