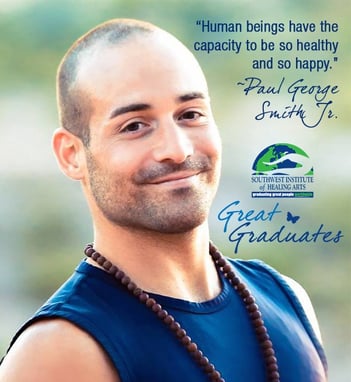 Paul Smith is the epitome of a SWIHA #GreatGraduate, displaying the reverent and resilient balance between action and stillness. Paul is a life-long student who has used every ounce of his experience to expand his own personal growth and empower that in others.
He shares that he has found his life purpose through integrating his past experiences and observations: "Human beings have the capacity to be so healthy and so happy. All people can have a very loving connection between family, friends, colleagues and teammates. I have been observing and studying throughout my entire life so that I could help others. Unfortunately a few tragedies have occurred: my grandfather died of cancer, my high school head football coach died of cancer, my little cousin overdosed on prescription medication and my little brother took his own life. I've observed so many other tragedies and challenges - and numerous disheartening news stories are aired every day.
With each event, my heart was broken and my awareness was opened. I witnessed the harmful effects that conventional medicine and therapies can sometimes have on peoples' lives so I set out to learn about - and provide - healthier alternative options. I decided to leave everything and embarked on a pilgrimage throughout India and Nepal to study Ayurveda and Buddhism. I returned and graduated from college with a bachelor's degree in Philosophy, Psychology and Sociology and was determined to keep momentum and learn more. I was looking into becoming a doctor and going to either Naturopathic or Chiropractic school when I discovered SWIHA and decided that it was a much better fit for me personally. It was a great choice!"
Paul expresses sincere gratitude for SWIHA and its curriculum, acknowledging that the true value of the courses offered are far more than just intellectually beneficial – both for him and everyone with whom he comes in contact. "The most valuable thing I learned at SWIHA was the ability to deeply 'see' another person - to understand them with a comprehensive vision and wholehearted compassion. SWIHA taught me skills of centering myself and being fully present with my clients and students. When I am fully present, I can give them my full attention and share with them at my fullest potential. The ability to be centered and fully present helps with my personal life in many ways as well."
His passion for his programs of study developed progressively. "The reason I am so passionate is because I was inspired by my parents, teachers, role models, teammates and peers to always do my best. My passion and happiness comes from being of service to the world and humanity."
Now, having done the work himself for personal and professional growth, he is able to serve in a variety of profitable and oftentimes charitable, opportunities that seek his areas of expertise. This allows him to fill his time with experiences that cater to his many passions. SWIHA provided Paul with a variety of tools and resources that have educated him on how to share his gifts in a loving and profitable way. "I have my own LLC, my own businesses and I also work as an independent contractor at numerous studios and clinics around the country. My LLC is filed simply as my name, Paul George Smith Jr. LLC. I chose this because I am able to have my various companies and projects covered under the umbrella of my name. In doing so, it gives me comprehensive coverage and the efficiency to change and create anything as needed with ease."
Not one to remain idle or stagnant, Paul has created a lifestyle that is tailored to both structure and spontaneity. "I like my weeks to be dynamic so I provide a variety of services on various days depending on my clientele and depending on what I wish to do. My main modalities are therapeutic massage, group yoga classes and officiating weddings. I also provide Ayurvedic consultations, cooking coaching and personal chef services. Writing, video blogging, creating audio recordings and public speaking engagements are my other favorite ways to lovingly share with the world. SWIHA has given me the skills and capability to be adaptable with my schedule."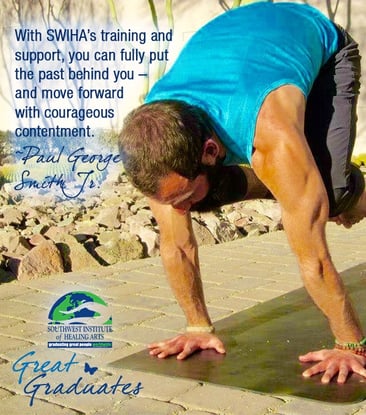 With so many different outlets, all with the underlying tone of compassion and healing, Paul shares what a unique-to-you session would look like, offering brief examples of massage and yoga experiences.
"To describe what a client would experience with me in a massage treatment - imagine a blissful, rejuvenative and life-changing experience where you learn about your body and learn about life. With 'Deep-Tissue and Dialogue' there is conversation throughout most of the massage session, so it is basically a body treatment, coaching session and educational experience all in one. Personal, life-changing revelations are the result for clients. In a group yoga class, a student of mine would feel at ease, powerful, courageous and contented - and soak that all up in a long shavasana power-nap and mini-massage at the end of class."
These are just a few of the ways that he serves his community and Paul is well-known for his intuitive and intense sessions that are regarded as deeply- transformative and tailored with much intention. "My clients are people from all around the world who are seeking a better body and a better life. People want to be happy, and happy is how they feel when finished with a treatment, class or consultation. They come to me because they feel that it is the right time for them." Numerous success stories are listed on his website under the "Happy Clients" tab. Paul welcomes anyone interested to speak with his previous clients/students to hear their feedback.
One of Paul's greatest achievements-to-date and gifts to his large clientele base is his most recent mobile "Bodywork Tour" through multiple states across the nation, where he shared his variety of healing modalities to several communities this past summer.
Bodywork Tour:
"SWIHA has also taught me how to be very efficient and successful at creating a goal, creating the step-by-step plan and creating a final success. With vision and determination anything can be done. I had the passionate idea of going on a trip and sharing my skills and knowledge in Santa Monica, California. I called it a 'Bodywork Tour' and booked my schedule weeks in advance. I worked with clients at the Entertainment Industry Foundation and various other venues, networked and developed my clientele base to travel back to be of service there often. Another aspect of this dream and this trip was to create a 'working vacation' - busy being of service and helping people while also having plenty of time to enjoyment myself. My days were full of sleeping in, going for a run and a swim in the ocean, working with clients all afternoon and then enjoying local ultra-healthy yoga, food and friends in the evening. It was a dream come true - and this type of dream shall happen often - there in California and around the world thanks to SWIHA's inspiration to dream big, plan well, trust myself, have faith, work with love and make it happen."
Paul ended his tour officiating the wedding of two SWIHA graduates, demonstrating how both schedule and skills can organically evolve into a life passion. Well on his way to being internationally-known, he humbly states that his connection is as important as his curriculum. "SWIHA has given me an in-depth training in website and social media success. Networking, expansion, inspiration and supporting other colleagues have all been a part of my internet presence - it has been very helpful for me and for others. My website is www.PaulGeorgeSmithJr.com
, my social media accounts are my full name and also Life-Changing Bodywork and Awesome Ayurveda." To which Paul adds, he would be thrilled to those who offered a connection request on any of the outlets he resides on - Facebook, Instagram, YouTube, Twitter and LinkedIn, promising timely information that will help teach others what he has learned to be helpful.
His online presence is growing as solid as his brick-and-mortar establishments and accomplishments, including one of his most noteworthy retreats held just a couple of summers ago.
Simply Healthy Retreat Center:
"SWIHA has inspired me to create international opportunities. In the summer of 2013, I rented a fully furnished cottage near the beach of Lake Erie in upstate New York. I called it the Simply Healthy Retreat Center. It was basically a Bed & Breakfast - plus daily yoga, local fresh-prepared foods, fresh juices, bodywork treatments and lots of personal relaxation time at the lake and at the backyard bonfire. Some people stayed for a few hours and some for a few days. SWIHA provided me the training and inspiration for both the business aspects of this endeavor - as well as the service-providing aspects, and I am forever grateful."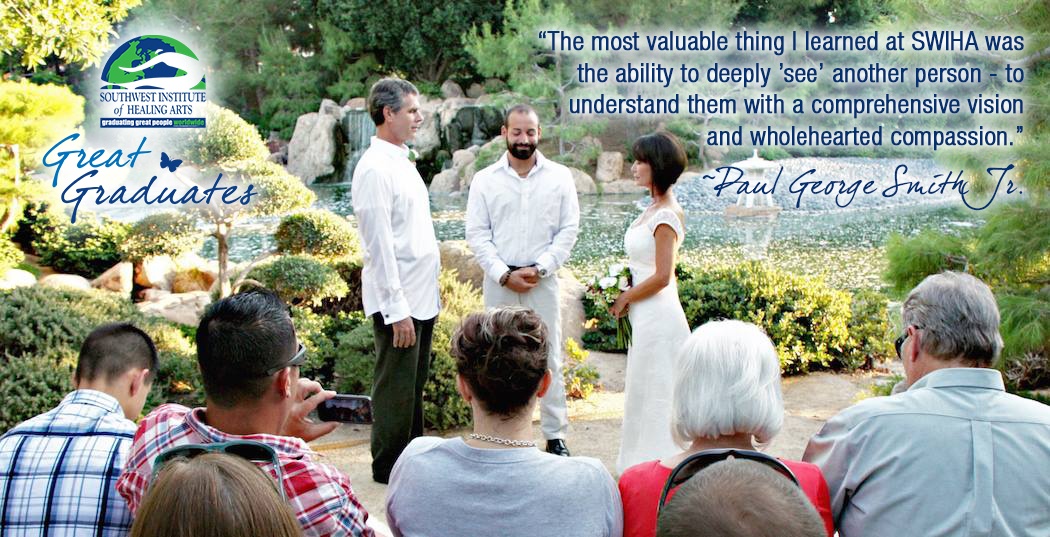 Of course, as Paul frequents the halls of SWIHA and SOY in an instructor capacity, he also maintains his mindset as an ever-evolving student. "I will pursue other education as a result of my SWIHA experience. I seek knowledge every day with every person that I interact with - whether they are close colleagues, clients or complete strangers. I also am considering more classes at SWIHA and other trainings at other schools around the world. Over the past 3.5 years that I have been a SWIHA student, there has been a pattern where I complete a program or two, take a break to focus on work and developing my businesses, then always return back to attend other programs while continuing to develop my businesses. What keeps bringing me back are all of the amazing SWIHA administrators, teachers, students and community.
Also the wisdom and techniques that are taught are all so helpful. I love learning how to provide treatments for others - and I love receiving treatments from others. SWIHA education has taught me how to understand all aspects of myself. - At school I've learned how to understand others. With this ability to more deeply understand myself and others - I am able to decide the best course of action for myself - and support others in deciding their own best course of action. SWIHA has altered the course of the future. I have exponentially more knowledge than I had before - and this knowledge is wealth. This college has been a catalyst in my life and a foundation of all that I do.
When I apply my SWIHA knowledge in a session with a client I feel like I am fully prepared, present and peaceful. Clients pick up on this courage and allow themselves to relax, release, rejuvenate and feel safe enough to open up and be honest with themselves. SWIHA has trained me to be able to work with a wide variety of clients in a wide variety of circumstances. My message to other new SWIHA grads is to be consistent. Life has its ups and downs - though if you keep consistent in your studies and in your long-term vision you will make it through the waves of life with ease. In the end you will be prosperous and filled."
Paul invites and encourages all SWIHA students to really dive into the many opportunities offered within the community, as well as, similar like-minded communities that are outside the walls of the college.
Gifts and Graces/Events:
"SWIHA is amazing with the community events that it hosts often throughout the year. One of them is the monthly Gifts and Graces event. The first Friday of every month dozens of people flock to hear keynote speakers present about various topics and then have a few hours to receive mini sessions from SWIHA students and alumni. SWIHA also has much larger conventions such as the annual Holistic Health Fair that are brimming with amazing people, networking opportunities and community strengthening. I have participated in many of these - I've set up my massage chair and also set up a table with the Ayurvedic health food products that I create. SWIHA's events and support have been amazing ways to share the gifts and graces that SWIHA has helped me discover, develop and expand."
On a final note, "To all prospective students thinking about enrolling in SWIHA you may be thinking, 'What's in it for me?' As a student you have the opportunity to create incredible in-depth friendships, to learn from the most skilled teachers in the world and to cultivate personal health and happiness that will last a lifetime. You will experience many transformative and healing revelations of mind, body and spirit. With SWIHA's training and support your past will be fully behind you - and you will move forward into the future with a personal power, courageous contentment and a life full of love and prosperity."