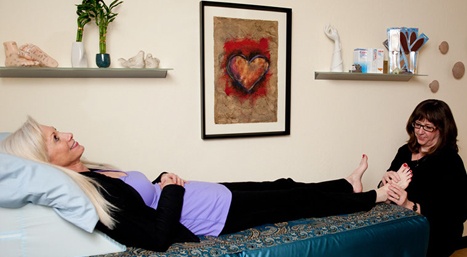 Glenda Bokamper, just like many before her, was divinely led to Southwest Institute of Healing Arts (SWIHA). Glenda had an idea about what she wanted to do and had embarked on a more traditional path towards her dreams. After she hit some bumps in the road, SWIHA made an appearance in her life and that has made a huge difference. "In nail school I became allergic to the fake nail products, leaving the spas in Scottsdale as my only option for employment. At the first spa that I worked, I was told to fake a treatment with my pedicures. Instead of faking it, I found SWIHA and took an introductory class. That was 15 years ago. I fell in love during that one class with feet and the mysteries that they hold. I have been loving feet from that day forward."
Her next class at SWIHA was 10 years later, when she took Toe Reading with Cheryl Speen, to fulfill her massage CEUs. Glenda remembers that Cheryl used her as a demo and kept asking her questions about the path she was walking: 'What if money were no object? What is my heart calling me to do?' The next week Glenda signed up for the Reflexology program
at SWIHA. Because of that program, she now states simply "I'm walking my destined path now."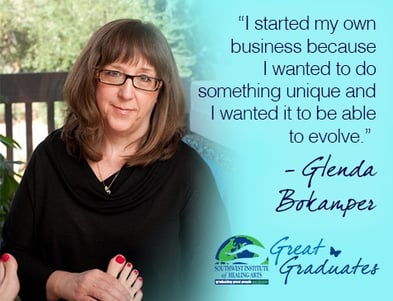 When Glenda thinks about the most valuable lessons she learned during her time at SWIHA her thoughts go beyond her classroom experience. "SWIHA taught me about the Body-Mind-Spirit connection. I have learned that the spiritual is so important in every aspect of our earthly experience."
Glenda is in touch with her spirituality and it is a part of her work. "When I hold someone's feet, I am holding their whole body in my hands. It's very sacred. That person is allowing me to see them – really see their soul through their sole. As I hold space for them, in a non-judgement graceful way, it allows their body to heal itself."
After graduation, Glenda created an LLC, Sole Therapy by Glenda, under which she has grown a successful private practice in Old Town Scottsdale. "I started my own business because I what I wanted to do was unique and I wanted it to be able to evolve. I just didn't fit in anymore. Or rather, I stopped trying fit in."
As a licensed nail technician, certified master pedicurist, professionally trained reflexologist and master Toe Reader, Glenda takes care of client's mind, body and soul in each and every appointment. Her clients are mostly professional women over 40 years old, with grown children who have the time to devote to their own self-care.
As a SWIHA graduate who has discovered her authentic self, Glenda is not one to be traditional or to focus on her credentials only, "I do Reflexology, and natural nail care. I don't think of myself as a nail tech, rather as a Reflexologist that will also care for your hands and feet. I'm known for my Reflexology pedicures. There are very few others who offer what I offer."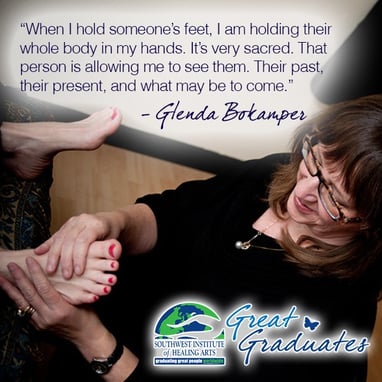 The healing clients receive begins before their appointment's scheduled start time. "I pray for my clients before they arrive. I give each person my focused attention, allowing them a space to talk, relax, or to sleep. Around 85% do fall asleep during a pedicure or Reflexology session. They will get a Toe Reading if a toe speaks to me. My belief is that the whole body is interconnected and that my touch is guided by Spirit, so that even if a person is asleep, healing is happening."
Having taken longer than others to find her true passion, Glenda admits to feeling lost at times. "I spent many years feeling like a misfit. Through SWIHA, and the many teacher-mentors, I'm blessed to now know that I am a gifted, wonderfully unique person. I treasure being a misfit, fully knowing where I now do fit in the master plan for my life!