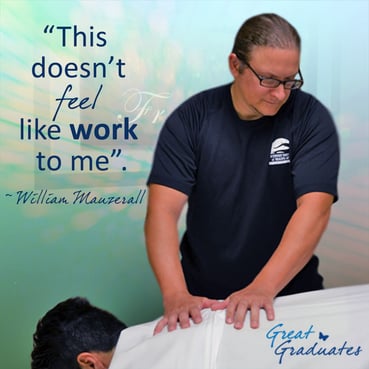 William Mauzerall's transformational journey from military service to massage therapist is an inspirational testimony of accepting and leaning into life's opportunities. William, an honored military veteran, completed three years of services to our country and found himself at a crossroads after completing his military career. Having been fortunate to have the GI Bill assist with funding his educational dreams, William asked for guidance from his brother on the educational direction in which he should travel. William, a strategic thinker with an openness to consider many educational endeavors pursued the Massage Therapy program at SWIHA (Southwest Institute of Healing Art) for a few reasons: He would earn an associate's degree from an accredited institution, he could enjoy the climate of the Southwest and it was a program that gave him man options to choose from in developing his gifts. William describes a peace and serenity in making his decision to pursue massage therapy through SWIHA -- he knew in his soul it was the right direction for him. In looking back on this decision, William now can see his footsteps to SWIHA transformed his life far deeper than a massage program.
As William began his program, he quickly found the coursework academically challenging. He embraced the notion that if the program did not challenge him, it would not change him. Through coaching and mentoring from his teachers, he learned the key difference between being a good massage therapist and great massage therapist is the ability to view the body as a whole instead of the sum of its parts. Through the life cycle of his program, beginning with the anatomy class, William learned the basics by breaking down the body to its simplest elements: molecules, cells, tissues and systems. As awareness and exploration continued through his coursework, William learned it is impossible to touch a body without understanding the impact on the whole body at every level.
As awareness and exploration continued through his coursework, William learned it is impossible to touch a body without understanding the impact on the whole body at every level.
William pursued his education with scholarly fervor, and he proactively participated in many tutorials to help him succeed. He tried without success to scientifically dissect the massage experience by striving to perfect a set of step by step protocols outlining where his hands each step of the massage. The pieces of the puzzle fell together when one of his massage teachers, April Jaeger, asked William a simple question, "When was the last time you gave someone a massage without a protocol?"
From that moment, William let go of the steps of the 'teaching protocols' and embraced what he was feeling. As his understanding grew, his passion for massage expanded into being a peer mentor for his fellow students and coordinating study and practice sessions.
Upon graduation William was invited to begin his career as a licensed massage therapist at the SWIHA Massage Clinic. When asked William says with a huge smile emanating from his big heart, "Working for SWIHA does fell like a job! I love sharing my gifts and passion for massage with my clients."
William loved that he could choose from such a wide variety of massage modalities to best express his gifts; he chose Deep Tissue Sculpting and Myotherapy as his primary expressions.
He is also proficient in Thai Massage, Swedish Massage, Myofascial Energetic Release, Ayuranda Massage, Cranial Sacral Therapy, and Aromatherapy. William continually expands his breadth of experience and is committed to lifelong learning. William's ultimate goal is to open his own business, and his short term goal is to be an instructor for SWIHA. Regardless of the path he chooses, William shares his satisfaction in helping people is indescribable.
William's focus and passion is to understand the needs of his clients -- he listens with his heart and his hands. From the moment he greets his client, whether it is a first massage or the 500th, he welcomes each person with a warm smile to provide the person a feeling of importance and acceptance. William thanks each person for choosing to work with him and asks how he might serve the client in their peace and healing. He acknowledges why his client is there: to simply relax, to ease low back or hip pain, or to alleviate overall tension patterns; William makes no pretense to healing or fixing.
Let me be an instrument, not an ego, in the peace and healing of others.

SWIHA Motto
William does not chase pain. When the massage starts, he places his hands gently on the spine, the neck or feet, and asks the client to take a few deep breaths. He then explores the body carefully searching out tension patterns employing thousands of hours of research and practice. He plays the body as if it were a musical instrument, with his hands and forearms searching out the next note, seeking the dissonant patterns that may have brought his client to him. When the session draws to an end, he holds the client's head in his hands, and slowly brings the person back to a centered state. He asks if the person feels the issues were addressed properly and offers the individual suggestions on how to enhance the effects of the massage. William walks each client out to the lobby and always offers water and a chocolate. The greatest compliment William receives is for his clients to refer him to others, and he is continuing to see his client base increase. William has been sought out by many clients because of his gentle, caring and client-centered focus.
William has garnered impressive respect and recognition from SWIHA faculty and staff including Amy Higgins, LMT, SWIHA Massage Clinic Manager: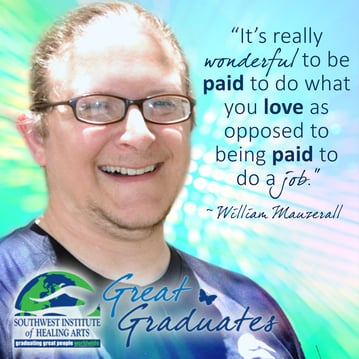 "I've been in the field of massage therapy for a little over 7 years now, and William is by far one of the more exceptional, "stand-out" students I've had the pleasure of working with and coaching. William is highly inquisitive, and goes above and beyond to seek what he does not fully understand. It has been a pleasure to observe William's growth as a massage therapist, watching his level of confidence and skills grow, enriching the lives of the clients he so lovingly serves. William will no doubt continue to develop into a well-rounded, insightful, and highly educated professional massage therapist."
William's advice to future SWIHA graduates that choose to follow in his footsteps is: "Never stop learning and never stop exploring your gifts. We are all called to serve based on your individual and unique talents."
The world needs each graduate from SWIHA!
William emulates the acceptance that life's challenges are the building blocks which mold each person into who they meant to be. William is thankful for the gifts and graces he has received through his education at SWIHA and looks forward with anticipation to the future.
For those interested in discovering their gifts of touch the way William Mauzerall discovered his, please contact a SWIHA Admissions advisor at 480-994-9244 or send an email to info@swiha.edu
. To book at massage with William or one of the other Licensed Massage Therapists or Student Therapists serving in the SWIHA Massage Clinic please call (480) 966-4425.