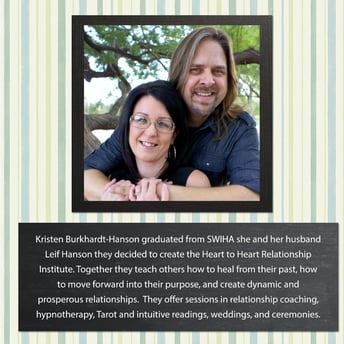 Kristen Burkhardt-Hanson had always been a troubled soul; she spent most of her life addicted to substances, alcohol, and making poor life decisions. She worked equally as long in the spa and salon industry and was over-worked, under-paid, and stressed out. She was longing for a different kind of life that gave her a sense of meaning and purpose.
Leif Hanson always felt alone and disconnected from the world. On the outside he appeared to be happy and easy-going, however, on the inside he was miserable and lacked confidence. At times he found it difficult to make friends and maintain a social life. He liked his job as a software engineer but he longed to have purpose and live life in an exciting and meaningful way; he just didn't know what that looked like yet.
After both of their divorces, Leif and Kristen met online. After dating for a few years Leif moved Kristen to Arizona with her two daughters for a chance at a new life. They both became sober in 2010, and while they had the best intentions to have a fabulous marriage, they quickly discovered their behavior and attitudes from their previous marriages and experiences were beginning to seep in.
While working in her eyelash studio in September of 2012 Kristen received the "call" to attend Southwest Institute of Healing Arts (SWIHA). Already a business owner, she had no idea why this message was coming to her out of nowhere. Right after her first appointment at the school she enrolled in a two year degree program in Transformational Psychology.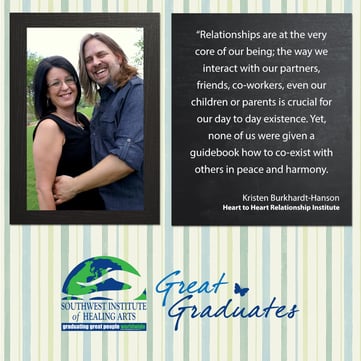 She was met with highly educated, talented, and supportive staff and teachers that truly cared about her journey. Her courses in Life Coaching, Clinical Hypnotherapy, and Spiritual Studies proved to be the perfect resolve to a lifetime of dysfunctional behavior and addiction. She was finally able to address and heal her past damage and gain the self-confidence needed to have a healthy marriage and live a successful life!
After watching Kristen come home and share all of the amazing new things she was learning, Leif decided to join SWIHA in 2013. He wanted to learn not only how to how to heal from his past damage, Leif wanted to improve his marriage and find happiness and meaning to life as well. Through his education at SWIHA he too was met with the same encouraging and inspirational teachers and staff and learned powerful new communication skills, how to listen and be present, and his special purpose.
Leif and Kristen were so passionate about the wonderful education they received, that when Kristen graduated in 2014 they decided to create the Heart to Heart Relationship Institute
Together they teach others how to heal from their past, how to move forward into their purpose, and create dynamic and prosperous relationships. They offer sessions in relationship coaching, hypnotherapy, Tarot and intuitive readings, weddings, and ceremonies. Kristen has also published two books: Heart to Heart: A Guidebook for Relationship Recovery and Quick Start Guide to Relationship Recovery.
Saturday, June 13, Kristen will be teaching a tarot reading class at the New Vision Center for Spiritual Living in Phoenix at a cost of $45.00 per person. For more information and register for the workshop, click RelationshiprecoveryInstitute.com and click on Everything Tarot!