Written by StevieAnn Petitt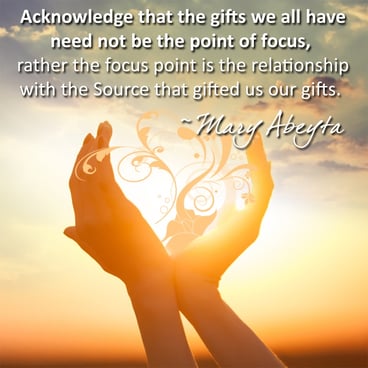 Mary Abeyta is a living, walking example of the SWIHA's motto – To serve as an instrument, not an ego, in the peace and healing of others.
Mary Abeyta's life story has been nothing shy of miracles, each step building upon the next. As we sat together for this interview, her demeanor was both joyous and peaceful. We began with the simplest of questions, each providing proof that her entire life, even up to this very moment, has been Spirit-driven. In fact, Mary's overall message to others is to acknowledge that although we each possess unique gifts that we all eagerly wish to share, our main point of focus ought to be our relationship with the Source that gifted us.
This statement opened up nearly an hour of dialogue; Mary's phenomenal journey started with a calling to study Theology. After seeing an ad for a Theology program, within one week's time she received confirmation from three other people who had seen the same ad – each totally unaware of the other, and even living in different time zones. All of the messengers suggested Mary should apply to the Theology program. With just a tad bit of initial resistance, Mary intuitively knew she'd be selected for this life-changing program.
An elective part of the Theology program was a 36-day retreat, with 30 of the days being in silence. It was here that Mary first truly felt God's unconditional and abiding love. Remembering this experience, Mary wiped her eyes as she attempted to explain how intense the feeling of being loved by the Divine was; recalling this feeling, even many years later, created tears of gratitude and bliss. This was one of a series of sensational experiences that led Mary to resign from her successful corporate career to pursue her calling to fully live as a Spirit-directed individual.
Mary wiped her eyes as she attempted to explain how intense the feeling of being loved by the Divine was; recalling the feeling, even many years later, created tears of gratitude and bliss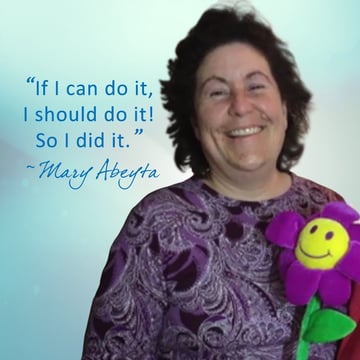 After completing the Theology program, multiple opportunities presented themselves, as if spirit continually opened doors for her. Effortlessly, she felt spirit guiding her into opportunities where she could simply BE in her gifts and graces, connecting with others in a deep and divine way.
Mary began as a substitute teacher in a Catholic High School, finding that every bit of what she had experienced had been divinely-orchestrated to make her the ideal candidate for each course that needed a substitute. Her corporate background in accounting aided her in teaching Math, while her Hispanic heritage assisted her in qualifying to teach Spanish. Last but not least, her studies in Theology served as a solid foundation for her to teach all the core classes in world religion and sacred practices.
One day, as Mary and Sister Jean were talking about Mary's transition into a new chapter in her life, her mentor asked her, "What would you do if you left teaching?" Without hesitation, Mary replied, "I would go to the massage school in my neighborhood," referring to the Southwest Institute of Healing Arts (SWIHA). Sister Jean lovingly and affirmatively responded, "Well, then go! Explore! Find out!" Mary paused for a moment of reflection when she related the story. With a larger-than-life smile, she triumphantly recalled her decision: "If I can do it, I should do it! So I did it."
After completing her 750-hour Massage Program
at SWIHA, Mary experienced even more miracles. Staying in the flow of life, Mary waited to get licensed, praying for the exact right place to apply her gifts of healing. Shortly after receiving her massage license in the mail, she received an email from the Executive Director of SWIHA at the time, Mary Donnelly, inviting Mary join the SWIHA Massage Clinic staff as a Licensed Massage Therapist. She'd have the opportunity to employ her gifts and graces with those seeking physical and emotional healing through the power of touch.
Once again, Mary cups her head in her hands, laughing hysterically and in absolute joy, as she inventories all that she deemed to be 'Spirit-led'. One of the most profound statements she heard from another one of her spiritual mentors was that, "Sometimes in life, we stay too long at a certain place, when it's really time for someone else to step in to execute their calling." It was this insightful and compassionate statement that gave Mary permission to embrace what she considers a 'fundamental shift,' and leave behind the security of teaching in order to focus on her calling as a professional massage practitioner.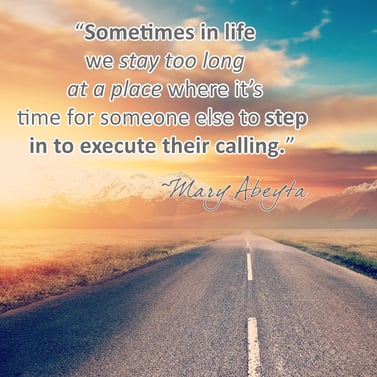 Mary shared how once again, God combined her previous talents and gifts with her new found passions, allowing her to serve as a hands-on energetic body worker, similar to the way she imagined the master Jesus healed others. The transition into a myofascial energetic approach to massage has brought her even closer to her purpose. She now serves an assistant teacher in the myofascial program, where she experiences God revealing himself through both natural and divine revelations as she serves as a bridge between Spirit and her clients.
Her practice addresses the body in layers, a style she adopted from her admired mentor, Pam Fields, one of the long-time instructors at SWIHA and creator of the 100-hour Certificate of Excellence in Myofascial Massage
. As each layer is attended to, Mary identifies and releases constrictions within her clients' bodies using massage, while also incorporating cranial holding and polarity to further free up energy. Mary often adds a little prayer to her sessions as well.
As Mary serves as an instrument in the peace and healing of others, she states that she sees all her clients as a reflection of the Divine, allowing God's grace to align both her and those that she serves one in heart and mind with God. She feels that her clients are always divinely-led to her, and that both her and her clients benefit greatly from the time they spend in the sacred space of her massage room.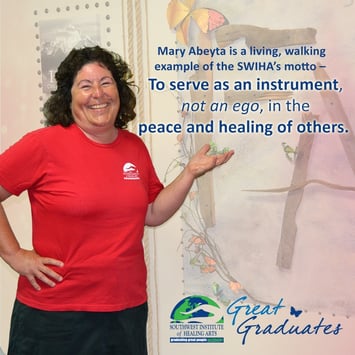 Mary declared that her new found calling to massage, and every step along the way, has proven to be what she calls another "graced year." She firmly believes the adage, "Do what you love and the money will follow." She will continue to teach and heal in every capacity that she feels called to do so, all while allowing Spirit to work through her as a living, walking example of the SWIHA mission – to serve as an instrument, not an ego, in the peace and healing of others.
To book a massage with Mary Abeyta or any of the Licensed Massage Therapist serving at the SWIHA Massage Clinic call 480-966-4425
. If you feel you might be being called to discover your gifts of touch and healing, please schedule at time to speak with an Admissions coach by calling 480-994-9244 or emailing info@swiha.edu