Like many massage therapists and massage enthusiasts, Ronna Everhart found massage after decades of discomfort and chronic pain. At 12 years old, she chipped her tailbone in an accident. "I broke my bum!" she exclaims with a laugh. Although she is full of laughter and smiles now, most of her life consisted of pain and discomfort. Between the ages of 19 to 24, Ronna gave birth to three children, which really did a number on her low back. She became dependent on over the counter medicine, such as Ibuprofen daily, to alleviate her pain, yet it wasn't enough. Chiropractors, and even the occasional glass or two of wine, to relax the muscles proved futile as well.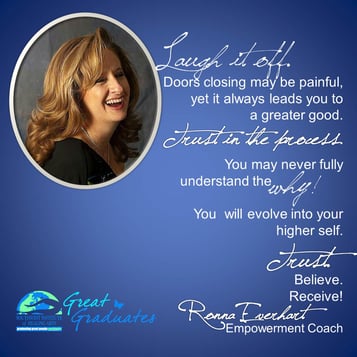 By the age of 30, Ronna had tried almost everything to help her pain: TENS units, decompression, pain clinics, physical therapy, pain creams, shots…the list goes on!
After 32 years of dealing with the after effects of her tail bone injury, which caused chronic arthritis due to the persistent low back pain, Ronna's life started to become negatively affected in all areas: mind, body and soul. Her finances were suffering from the out of pocket chiropractic costs, in addition to other health related expenses. She reached a point where she was "fed up with doctors, once and for all!"
Fortunately for Ronna, a shift was coming. Change was lurking around the corner. "I made a huge mind shift, and decided I was going to heal myself with action and perseverance!" she affirmed.
In 2007, at age 39, Ronna invested in herself. She hired a personal trainer to help her with her back pain; pushing fear and pain aside, she worked very diligently with her trainer four to five times a week. While this work strengthened her back, she still felt a deep inner pain, as if something on a soul-level was crying out for relief.
Finally, by age 44, Ronna decided that with or without pain, she needed to find a way to live better. After a divorce and the loss of her family business, Ronna felt she was given a gift, opportunity to re-invent herself. She took a year-long sabbatical during which she was presented with many signs, all of which directed her to choose a career as a massage therapist.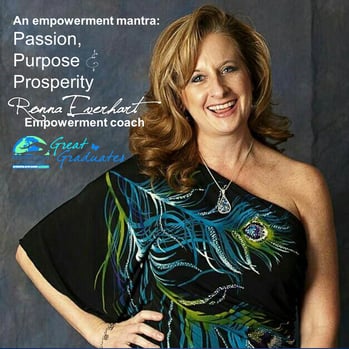 So Ronna enrolled in the Massage Therapy program at Southwest Institute of Healing Arts (SWIHA), and began to study massage therapy, in addition to energy work, life coaching and yoga as well. At SWIHA "I learned a recipe for healing, health and wellbeing," she reflects. "This recipe for living pain free could not be found in a traditional doctor's office, a pill bottle, a wine bottle or self-help books." Ronna found the answers for what was ailing her within herself.
"My cure is called holistic wellness!" Ronna exclaims emphatically. To feel good and live pain free, Ronna's uses a combination of massage therapy, cranial sacral unwinding bodywork, life coaching and yoga to create a magical holistic recipe for healing, and encourages her clients to do the same.
Ronna's goal for attending SWIHA was to find a career that embodied her personal mantra, the three P's: Passion, Purpose & Prosperity! And she did! Within a short time of graduating, Ronna manifested a position within a brand new wellness center called Complete Holistic Wellness. How fitting! How perfect! How empowering!
At Complete Holistic Wellness, Ronna will be one of twelve holistic practitioners renting a space. From 9 am to 9 pm every Friday she will be offering clients a complete recipe for healing and wellness: Massage therapy, empowerment life coaching and cranial sacral unwinding bodywork.
In addition to working with Complete Holistic Wellness, Ronna operates a mobile massage business, seeing one to two private massage clients daily, traveling to appointments anywhere from Casa Grande to Peoria. She operates under the business name My BLISS, LLC.
When it comes to building a business, Ronna encourages her fellow SWIHA graduates to get clear on what they want to do, and focus in on their business identity. She strongly emphasizes the importance of marketing, branding and networking, and she especially stresses the necessity of staying involved with the holistic community and the SWIHA community. Ronna plans to audit classes at SWIHA whenever the opportunity arises and encourages others to do the same.
Ronna advises other grads to believe in themselves when it comes to building a business.
Take baby steps," she encourages. "You don't go from A to Z, you go from A to B. Get involved with people that can mentor you, utilizing a life coach or work with people who have started a business that can give you great advice. Absorb everything you can, before, during and after starting a business."
Ronna feels very blessed to be living pain free, and hasn't needed the services of a chiropractor for her back pain since March of 2013. "I don't feel like an 80-year old woman anymore. I am a very active 47 year-old, who feels 20 again!" she said with exuberance.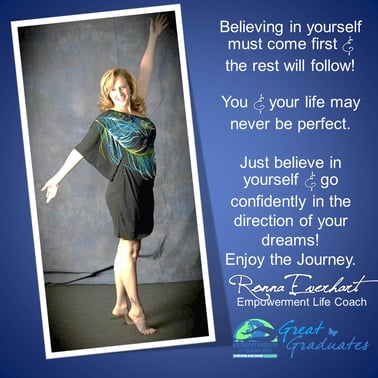 Come celebrate with Ronna on Valentine's Day at the Grand Opening of the Complete Holistic Wellness Center.
The Complete Holistic Wellness Center will be Ronna's new home on Fridays, as of Feb. 14, 2015, the Grand Opening day for the new center. The festival events will be from 11 am to 3 pm, located at 4701 S. Lakeshore Dr. Suite 3, in Tempe, AZ. There will be live music, healthy food, a book signing, drawing and giveaways, face painting, and demonstrations of the many services available at the Complete Holistic Wellness Center. As part of the event raffles, Ronna is offering a therapeutic massage session, an empowerment Life Coaching session and a Cranial Sacral Unwinding bodywork session. Come join the celebration and congratulation Ronna in person on the incredible journey she taken, from pain to empowerment.
To connect with Ronna, please follow her on Facebook
or email her at Mybliss.journey@gmail.com
For information on how Southwest Institute of Healing Arts can be a part of your personal empowerment plan, please go to Swiha.edu