How Great Graduate Kelly T. Smith Created a Successful Holistic Wellness Business
Intuition. We all have it, and some of us might be more in tune with it than others, but it's there. It's that gut feeling, that little voice inside our heads, the answers that live within our hearts and souls.
As a natural intuitive and trained Life Coach, it makes sense that Kelly T. Smith created a life coaching business that helps clients look inside to reach their fullest potential. A graduate of Southwest Institute of Healing Arts (SWIHA) Associate of Mind-Body Transformational Psychology program online, Kelly combines the many tools she learned in her program into the work she does in her business, Intuitive Life Coaching With Kelly. "I feel my intuitive abilities really came forward because SWIHA was a safe place to honor this side of me," Kelly says about her journey with SWIHA. "I am a life coach, intuitive and hypnotherapist and I use all these tools together to work with people to reach their fullest potential, discover their spiritual gifts, and move past their limitations to live life to the fullest."
Kelly says that she found the online program at SWIHA through a series of "synchronistic events."
"I was searching for a way to do what I loved, and I was looking for a life coaching program. I had been searching for over a year, and could not find anything that worked in my budget," she says. "I decided to pray and visualize myself going to the perfect school for me. Two weeks later, SWIHA came out with their online program. I was one of the first in the online program. I used to joke with my husband and say I think I prayed their online program into existence!"
Once Kelly completed her program, she focused her energy on developing her business and building her client-base. Kelly helps her clients explore their inner selves, understand their life purpose and connect authentically with themselves. In addition to life coaching, she offers a number of services including past life regression, hypnotherapy, intuitive readings and angel readings. An intuitive life coaching session consists of an intuitive reading with life coaching tool and coaching techniques.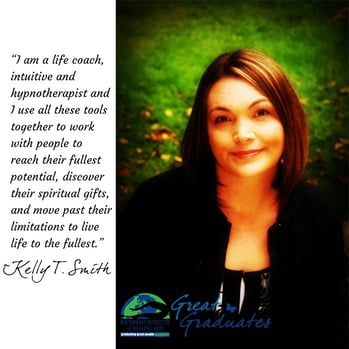 Although Kelly's business is successfully up and running, she did experience challenges and struggles, as most new business owners do at first. "The most challenging part of starting a business was taking the first step," says Kelly. "Getting my website up, getting my first paid client, and believing that I was ready and worthy of following my dreams."
As a SWIHA graduate, Kelly had a strong support team from the SWIHA Success Center. "I called Will Zecco in the Success Center many times for coaching advice, and he was always there to help me believe in myself and take the next big step!" she says.
The beauty of Kelly's business is that most of her work is done online and over the phone. She lives in Vancouver, Washington, and works mostly out of her home office and holds Skype coaching sessions with clients from all over the world. Kelly says she feels blessed that she has the opportunity to work from home. She also conducts sessions locally for clients near her.
"I really enjoy having a business that doesn't limit who I can work with based on where they live," she says.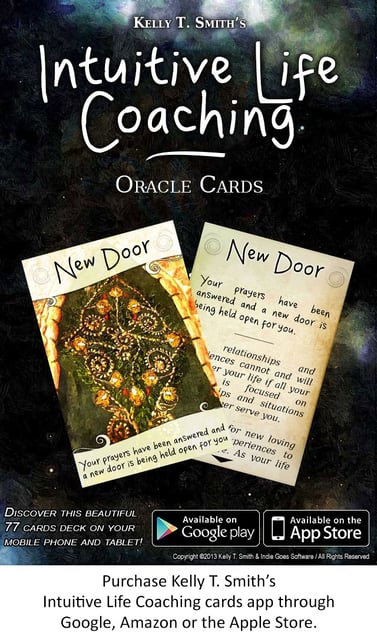 Kelly truly embraces the idea of becoming a holistic entrepreneur. After launching Intuitive Life Coaching With Kelly, she began to streamline additional avenues of income. She is the author and creator of the Intuitive Life Coaching Oracle Cards App, which are available for download on Google, Amazon and the Apple store. She also offers hypnotherapy MP3s for sale through her website, and sometimes takes her business expertise to workshops, holistic fairs and radio shows.

If Kelly could offer up one piece of advice to future graduates of SWIHA programs who are interested in launching businesses and becoming a holistic entrepreneur, it would be to remember that there are always a series of events that will lead to success; it rarely comes overnight.
"There is no such thing as failing, because what we think is failure, is actually the knowledge and understanding, that we need to get us to where we are headed!" she says. "Nothing can be a failure because every event is a part of the whole, it is not separate, nothing is separate it is all linked together. Trust me when I say, if you choose not to give up, your success is inevitable!"
For more information about SWIHA's online or on-campus programs, please call 480-994-9244 and ask for an Admissions Coach.