By Jenna Zizzo
After a shocking and heart-wrenching break up, Tory Dube knew she needed to find methods for self-soothing. She felt that the only way to heal her wounded heart was to try meditation. However, instead of reading a meditation book or downloading the latest meditation app on her smart phone, Tory decided to embark on a nine day meditation retreat in the Bahamas.
While on her retreat, she heard a doctor by the name of Joe Dispenza share about the science behind quantam physics and positive psychology. Once she heard about positive psychology, Tory was immediately enamored and knew it was something she wanted to pursue.
The moment she returned to her home in New York City she rushed to the computer and searched for psychology programs. She found Southwest Institute of Healing Arts' (SWIHA) Online Associates of Mind Body Transformational Psychology program, and within a month's time she was enrolled.
"When I started my classes I had no idea what I was going to do with the information," Tory explains. "I just had a hunger for knowledge."
It was her hunger for knowledge that fueled Tory during her two year program, and helped her learn to think and react in a completely different and positive way. The material Tory was studying inspired her to start nutrition blog called Hotchickpea. By the second year of her program, she noticed a "radically freeing" transformation within herself. She thought, "If I can feel this purposeful and wonderful, I know every woman can." She made it her mission to bring this same freedom to the masses.
Once she completed her program she had such a wealth of knowledge she was almost overwhelmed by it!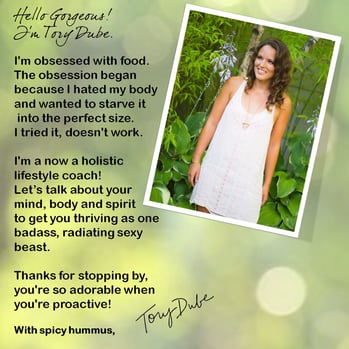 "I didn't know where to start with clients, or what to utilize as we went along," she said. "I had to do some soul searching and decide what my core beliefs were and build my programs around that."
After searching her soul, she realized she needed to start a business, and created Hotchickpea Holistic Health and Lifestyle Coaching, using the name of her nutrition blog as inspiration for her business name. "When I started my company, everyone was attached to the name-- so it stuck!" Tory explains.
A large part of Tory's work is nutrition coaching, coaching teens and women to "drop their food BS" she states bluntly. As someone who is obsessed with food, and used to hate her body and starve herself to fit into the "perfect" size, Tory knew that her purpose was to share her experience and knowledge in an effort to help others.
"As much as I want clear skin, weight loss, improved mental clarity, peace and happiness for my clients, my bigger motive is for them to drop the consuming distraction of dieting, body image and self-hatred," she says with conviction. "I believe every second spent NOT loving yourself, your family, your friends and the given day on this planet is a major waste."
Tory creates programs for her clients which focus on basic food knowledge, mindfulness and meditation, hypnosis, and one of her inspirations, positive psychology. She is based in New York City, and runs Hotchickpea mostly out of her home, holding sessions with clients via phone or Skype. She starts her work with every client by holding an initial, 90-minute conversation. Then she devises a blueprint of sorts, planning out what she and the client will be working on together. She asks her clients to meet with her bi-weekly for a minimum of three months, where sessions focus on learning basic food knowledge, mindfulness and meditation, some hypnosis and a lot of transformational psychology. She requires a minimum of three months to work with clients because, according to her website, 90 days is the minimum of time needed to create, maintain and solidify lasting change. "I'm not interested in quick, fading fixes," she states.
Most of Tory's energy with Hotchickpea is put toward working with her clients, however, she does not discount the importance of marketing her business through various mediums. "I send out newsletters and I use social media. I also record meditations and post them on Soundcloud in hopes my clients will use them!" she shares regarding her marketing methods. However, Tory claims that her key to success, especially running a business in a city saturated with talent such as New York, is face-to-face marketing and knowing what your brand is.
"Your brand is so much more than your logo and website," she states. "The first step is spending some time with your core beliefs and values – as your brand MUST be your heart and soul."
To create sustainable income, Tory has developed other avenues of income for herself, within her business and outside of it. In addition to her one-on-one work with clients, she created a six week, online, interactive group course called Body Love for Foodies. This course offers participants hours of interactive training sessions, weekly discussions, reference materials, meditation and hypnosis audio and MUCH more!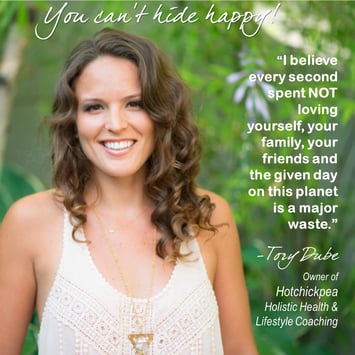 Tory is also a published author! She has written two children's books, and is hoping to begin an third during the summer of 2015. She is a guest blogger for blogs such as Mind Body Green
and Elephant Journal. Having her writing published on the web is a huge asset for her business. Not only does it provide her with the opportunity to share her knowledge and experience with the world, but it brings people back to her website and helps gain more clients. "I wish I started guest blogging long ago, it's phenomenal what it does for your site traffic!" she exclaims.
To learn more about Tory and Hotchickpea Holistic Health and Lifestyle Coaching, or to schedule a session with her, visit her website, hotchickpea.com, or connect with her on Facebook or Instagram or Twitter (her handle is @torydoobs). Plus, keep an eye out for Tory on the Dr. Oz Show within the coming weeks! She will be doing a segment with Dr. Oz, teaching him and his audience a $1 Do-It-Yourself home remedy.
To learn more about SWIHA's Online programs, visit the website
. To enroll in an online or on-campus program, contact SWIHA at 480-994-9244 and ask to speak with an Admissions Coach.